Amongst the ruins of post-WWII Germany, writer and director Christian Petzold has created a restrained, tense thriller in his film Phoenix. The war has ended, and Nelly (Nina Hoss) has managed to survive being in a horrific concentration camp. However, she has been left with a searing facial disfigurement that requires complete reconstruction that leaves her looking not quite as she did before. Her close friend Lene (Nina Kunzendorf) has plans for them to go to Israel where they can escape the memories of the war and start anew, but Nelly is more intent on finding her husband Johnny (Ronald Zehrfeld). She eventually finds him but he does not recognize her, insistently upholding that she has died. Instead, he co-opts her into a plan that involves Nelly pretending that she is his wife in order for them to claim and split her wealthy inheritance. What follows is an anxious and twisted relationship which plays out and unfolds on several levels at once.
The film firstly succeeds because it manages to make a relatively far-fetched idea plausible. It is so intensely earnest and stern in its execution that it is easy to become absorbed in its premise. The atmosphere that Pertzold creates through controlled, unfussy direction and minimal use of music only heightens the focus on the dialogue and the performances. There is a strained, awkward intimacy to their conversations and interactions, which wavers between familiarity and aloofness. Johnny is perhaps a little underdeveloped in the screenplay, but Zehrfield manages to infuse tense moments and exchanges with a sense of guilt that hints at the more unresolved emotional issues he has been suppressing.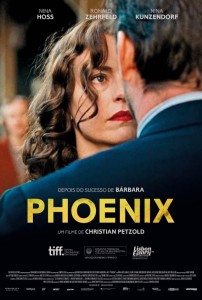 Nelly, on the other hand, is complex and multi-faceted, and Hoss navigates these layers with intense aplomb. Amidst the rubble of buildings which have not yet been cleared away, Nelly must also piece together her identity and the life she once had. However, when it becomes apparent that Johnny wilfully refuses to consider the possibility that Nelly may be alive, she complies with his scheme, if only to resume a relationship of sorts with him. Hoss makes her painful ambivalence palpable, and is keenly aware of the performative dimensions of her character; Nelly is tasked with putting on a performance of herself, to invoke her past in creating a future, to choose what information to disclose and what memories to hide. It is a fantastic performance, and it anchors the entire film.
Phoenix screened at the 2015 Melbourne International Film Festival.
This is one of two reviews of Phoenix. Read the other one here.