The third film from French writer/director Céline Sciamma has been gaining a reputation across Europe and abroad as one of the breakout hits of the year. After making the critically acclaimed Tomboy back in 2011, Sciamma has crafted a beautifully rich and complicated piece of social commentary in the form of Girlhood, tracking the lives of a group of young black women on the outskirts of Paris. It is a film as stark and thought-provoking as they come, brought to the screen by a director that many consider to be one of the best of her generation.
We see this world through the eyes of Marieme (Karidja Touré), a sixteen-year-old teenager living with an absent mother, abusive brother, and sisters that seem to be the only other ones who understand what her life is like. Early on she is told that her high school won't let her repeat another year level and instead she should try to get a job, with justifications that seem to be peppered with racism and a system unwilling to take the time to help her. She soon falls in with a group of other black teenagers living on the fringes of this society that introduce her to partying, petty crime, and cigarettes (they're French, of course they smoke). Sciamma takes a very minimalist approach to story and characters, giving a view of this world that has a realistic and occasionally confronting view of gentrified Paris. There's a level of authenticity that doesn't often get captured on screen, and a lot of the effect is due to the fact that many of the roles were cast by simply recruiting people off the streets.
The name in French is Bande de Filles, which translated roughly means 'group/gang of girls' which has a much darker tinge to it, considering the English title Girlhood seems to imply a totally different film. It captures that time in life associated with coming-of-age and people living on the lower rungs of society; it's shown and explored with a very stark realism but also moments that flare with quiet but powerful optimism. The two titles perfectly sum up the two ways of reading this film: as a realistic look at the forgotten fringes of society, or a film about the optimism that those living in the sticks have that they can build a better life. It also can't be a coincidence that it gets called this the year after Richard Linklater's masterpiece Boyhood graced the screens, so it's probably also got something to do with the marketing.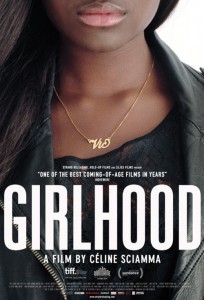 As is common with a lot of French cinema, the work put into the framing and visuals is exquisite, the close ups and many long shots are there to help tell the story and it's something that Sciamma and cinematographer Crystel Fournier do exceptionally well. They have an eye for memorable shots, including one extended take of the characters miming Rihanna's Diamonds, which sounds stupid but which turns out to be strangely hypnotic and ends up being the best scene of the film. Yes, this is a film so good it can make art out of teenagers miming a Rihanna song, which previously would have seemed impossible – but there you go.
There's a certain sect of French cinema which is purely concerned with looking at endless shots of nice food while the characters chit-chat about sex and philosophy, which critic C.J Johnson has aptly labelled  'baguette porn'. Girlhood couldn't be further. This is a slice of French cinema that serves as a reminder; behind all the exquisite architecture, cheese and that time the President got caught having an affair which actually improved his approval rating, there is an unfortunate and dark underbelly to French society with streaks of racism, a side that doesn't often get explored on screen.  This is an intriguing, sometimes stark and sometimes quite touching look at what it might be like being a black teenager growing up in the housing projects outside of Paris, or any city in the developed world for that matter.
One of the great things about cinema is that it allows you to appreciate or even empathise with people who you wouldn't normally interact with, and couldn't know the first thing about what life has thrown at them – it's films like Girlhood that illustrate this perfectly.
Girlhood opens in limited release on 13th August through Palace Films.