Directed, co-written by, and starring Mathieu Amalric, who most people might know as the villain from Quantum of Solace, The Blue Room is a whodunnit brand mystery based on a novel by Belgian writer Georges Simenon, made in the kind of style that the French have mastered; an erotic, genuinely intriguing thriller that sticks in your head long after the credits roll.
Amalric plays Julien, a married man living on the outskirts of rural France who begins an affair with Esther (Stéphanie Cléau) which ends in tragedy as two deaths shatter the lives of the two lovers. The story flicks between the police investigation and the events leading up to the tragic deaths, or possible murders. Amalric's direction is a finely tuned craft, with subtlety and a layer of mystery that warrants a second viewing to try and figure out what all the clues and cryptic symbols might mean.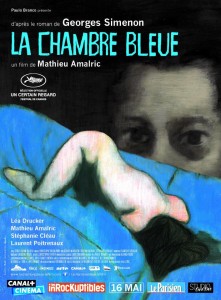 In terms of visuals alone this is one of the finest films of 2015. Cinematographer Christophe Beaucarne has an eye for exquisite shots of the everyday that stick in the mind like stills from a dream. The ones that really linger in the memory are the many shots of naked bodies; Amalric shows everything that is beautiful about the human form in a way that is as explicit as it is tasteful. The camera drinks in the sights of pale flesh, sweat glistening on lovers' backs, muscles rippling beneath skin, or a close up of Amalric's eyes, which have a sharp gaze almost on the level of Lee Van Cleef. The best thing about the photography is that it never seems to be overdoing it or leering; it's as far away from mainstream Hollywood as you can get and it exemplifies the kind of explicit beauty that the French have made themselves known for.
This is Amalric's second time directing. His previous film On Tour, which he also starred in, won awards all across Europe, and he holds himself well in both the director's chair and as the leading man. He brings a layer of complexity that makes it a joy to dig deeper, to try and figure out what secrets might be hidden behind all the enticing little clues. However,  if you like your thrillers with clearly defined twists and endings with all the boxes ticked, this will probably leave you frustrated and a little bit depressed.
The Blue Room is a richly mysterious, emotionally complex, and tastefully erotic thriller. Or if you're not in the mood for a complicated French art-house film, put simply: it's a great little 72 minute thriller with a whole lot of nudity; who could ask for more?
The Blue Room opens in limited release August 6th through Curious films.