Armi Alive opens with a fantastic monologue, as lead actress Minna Haapkylä delivers an oral narration of Armi Ratia's early life. This film at first presents as though it will be a documentary, a behind-the-scenes look at a theatre production of a play about Armi Ratia. But the documentary feel quickly evolves into a captivating play-within-the-film narrative based on the true story of a fascinating woman.
Armi Ratia was the founder of the Finnish design company Marimekko, and Armi Alive recreates a period of Armi's life from the late 1940s to the late 1960s. Minna Haapkylä plays Maria, who is in turn playing the role of Armi in the play. Armi's life moves through various crises – financial, marriage, staff conflict, a board who want her removed. Maria grapples with trying to find the true character of Armi, through her contradictions, her suicidal impulses and her moments of clarity and genius.
This story is beautifully filmed, and the simple setting of the theatre workshop allows for a very clever use of space. Without the distraction of ever changing settings or locations, we are able to focus on the efforts of Maria trying to bring life to the character of Armi. On occasion, the film snaps out of the play, as Maria discusses her role and performance with the play's director. These discussions prove insightful, but also help to remind us that this is a recreation of Armi's life and is, in part, fiction.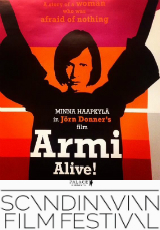 There are parallels with this film and two other films released earlier this year. Dior and I offered an interesting insight into the creative processes of a fashion designer, and Armi Alive does the same again. Where Dior and I documented the exacting standards of the world of haute couture, Maria depicts Armi as resourceful and determined. Armi makes use of previously discarded fabric when faced with a shortage of supply.
A better comparison is perhaps made with Clouds of Sils Maria. Obviously both films are depicting the production of a play, but both films are also a meditation on a woman trying to inhabit the character of another. There is a beautiful consideration of the experience of the women at the heart of each film. Interestingly, director of Armi Alive Jörn Donner knew Armi Ratia and worked with her at Marimekko. Armi appears to have been quite a formidable presence, and this film depicts her in a rather unique and compelling manner.
Armi Alive screened at the Scandinavian Film Festival.