Thanks to Entertainment One, we're giving away a special prize pack to celebrate the home entertainment of INSURGENT, the latest release in the Divergent series starring Shailene Woodley, available to own from August 12.

Prize pack includes: Insurgent Blu-Ray disc, book, dog tag, key ring and t-shirt.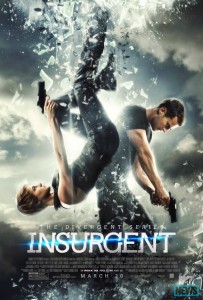 Film Synopsis: THE DIVERGENT SERIES: INSURGENT raises the stakes for Tris as she searches for allies and answers in the ruins of a futuristic Chicago. Tris (Woodley) and Four (James) are now fugitives on the run, hunted by Jeanine (Winslet), the leader of the power-hungry Erudite elite. Racing against time, they must find out what Tris's family sacrificed their lives to protect, and why the Erudite leaders will do anything to stop them. Haunted by her past choices but desperate to protect the ones she loves, Tris, with Four at her side, faces one impossible challenge after another as they unlock the truth about the past and ultimately the future of their world.
How to enter:
1/ Subscribe to our newsletter at http://eepurl.com/40DaX
2/ Send your name and mailing address to giveaways@filmblerg.com
Competition opens 9am AEST Monday 3rd August, 2015 and closes 5pm AEST Sunday 9th August 2015.
Terms and Conditions
1/ Prizes are eligible only to Australian residents.
2/ Film Blerg and Entertainment One cannot be held accountable for any delay or loss in prizes.
3/ You must subscribe to the Film Blerg newsletter to be eligible.
4/ Any information sent remains confidential.