Danish film Silent Heart explores the sensitive issue of euthanasia by grounding its political stance in the personal and the intimate. Directed by Bille August with a screenplay Christian Torpe, the film focusses on a dying woman's last few days with her family before she plans to take her own life. Restrained and yet deeply felt, August has created a viscerally emotional argument for the dignity afforded by euthanasia that never comes across as strained or contrived. Instead, the film's unfussy direction, honest performances and stirring screenplay all come together to present a moving portrait of a multi-generational family coming to grips with the inexorable passage of time.
Elderly Esther (Ghita Nørby) is suffering from a disease that will soon leave her paralysed, and with her doctor husband has been planning for months to take her own life before her condition further deteriorates. The family, including daughters Heidi (Paprika Steen) and Sanne (Danica Curcic), have all agreed with her choice, and decide to spend one last weekend together. However, as the weekend unfolds, and the reality of the situation looms, tensions begin to arise and various family members are forced to cope with personal misgivings and new revelations.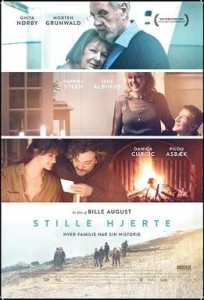 The performances are superb across the board. There is an easy, authentic chemistry amongst the family members more broadly, evident during meals and one amusing scene where the family bonds over smoking marijuana together. However, the film's most engaging interactions are between Esther and her two daughters, both of whom have vastly different personalities. As the elder daughter Heidi is initially positioned as the more rational, appeasing daughter, keen to carry out her mother's wishes as smoothly as possible. Younger daughter Sanne, on the other hand, is dealing with her own psychological issues, which only exacerbate her resolute belief that she is now not ready to accept her mother's impending suicide. Over the course of the weekend their outlooks become more nuanced in light of new information, revealing inner strengths and suppressed reservations that threaten family agreement on the matter.
Importantly, August explores the subject matter with a restrained delicacy that firmly focusses on the personal and not on the political. The film's stance is clear, but it is also not insistent or dogmatic. Instead, the dignity of choice is effectively conveyed by Nørby's simple honesty and moving tenacity as Esther. Whether imparting dating advice to her teenage grandson, comforting a distraught daughter or acknowledging her inescapable fears, she creates a physically and emotionally convincing portrat of a woman who merely wants to exercise some semblance of control in life's waning stages before it becomes too late. Thus, August's assured direction and Nørby's tender performance ensure that Silent Heart succeeds as an emotionally compelling argument for euthanasia.
Silent Heart is screening at the 2015 Scandinavian Film Festival.