It is 1954 and the Algerian War is building momentum as it begins to reach the lives of civilians. Trouble is brought to the doorstep of schoolteacher Daru (Viggo Mortensen), who is tasked with escorting Mohamed (Reda Kateb), a villager accused of murder to a regional police station to await his trial. Reluctantly, Daru takes up the task, but when both men's lives come under threat they are forced to flee across the Atlas Mountains putting them closer to the scattered conflicts throughout the country.
Far From Men is an impressive second feature film from French director David Oelhoffen, based on Albert Camus' short story The Guest. Camus' work sought to reflect his feelings on the Algerian crisis and represented though the character Daru. By drawing out the timeline of the original material, Oelhoffen seeks to provide more development between the two characters and the forging of a bond between Daru and Mohamed. It is the relationship and journey the men share that allows the film to develop like a classic Western. Stunning cinematography by Guillaume Deffontaines further serves the film's style and genre as it's along the vast plateaus of Atlas that Mohamed and Daru's journey is most significant, visually isolating the characters and focusing on their actions.
Both Mortensen and Nick Cave, the films co-scorer, apparently signed on to the film days after having been presented with the script. It's not difficult to see why, as the film could comfortably fit into a Cormac McCarthy adaptation. It is a world that is often brutally honest and unforgiving, one both Mortensen and Cave seem dedicated to explore through their work. Far From Men makes a slight deviation from strict McCarthy similarities by having trickles of human optimism expressed through Daru and Mohamed's relationship, but nonetheless contains a very similar atmosphere.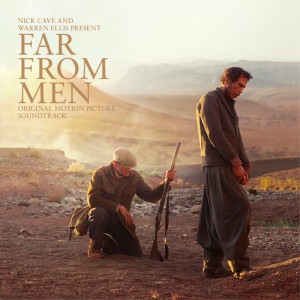 Cave, along with Warren Ellis are always relied upon to make an appropriate score to accompany any film they turn their musical influences towards. Whether it's a truth-seeking documentary West of Memphis or a tale of the old west The Assassination of Jesse James by the Coward Robert Ford. The pair consistently identifies the essence of a film, catering to tender moments, strengthening ambience and delivering a first-rate original soundtrack for Far From Men.
Viggo Mortensen is as always, outstanding. Not only speaking both French and Arabic, adding to his list of languages spoken onscreen, but is one of few actors who can portray inner turmoil without forcing a character's sense of self-importance. Reda Kateb (A Prophet, Zero Dark Thirty) is equally brilliant for much of the same reason, quietly enduring his fate without being overly pitiful.
Far From Men is ultimately about choice. It doesn't attempt to compare the nature of right and wrong for it would serve no purpose within the turmoil of the conflict. Instead, it ponders on the actions of the characters and whether or not they have a choice to do what they do. Not just from Mohamed and Daru, but the actions carried out by the Arabs and the occupying French colonists. For some this might be enough to keep you engrossed, peeling back the layers of the characters and revealing one's true character. For others, it may not be enough tension or energy for a modern Western.
Far From Men is in Australian Cinemas from July 30 through Palace Films.