Paper Towns is the second feature from Jake Schreier. Young adult romance script specialists and frequent collaborators Scott Neustadter and Michael Weber interpret John Green's novel of the same name. The pair boast an impressive resume for this film, previous screenwriting mono genre hits 500 Days of Summer, Spectacular Now and the critical and commercial success The Fault in Our Stars (also based on a John Green story).
The story centers on all round nice guy and A grade achiever Quentin (Nat Wolff) in his final year of school and his lifelong crush on next door neighbor Margo (Cara Delevingne). Margo is the apotheosis of the girl next door, beguiling eyes and a mysterious nature. Excluding mutual window views, the pair are mostly strangers (save for a scene that is uneasily jarred into the film, where as young children they discover a suicide victim). Life is easy for Quentin until one night Margo appears through his window inviting him for a night of mischief and adventure. The dark and enigmatic Margo informs Quentin of her general dissatisfaction of living in a cookie cutter suburban city she likens to a 'Paper Town'.
After this encounter Margo vanishes from everyone's life leaving behind a series of complex and personalized clues for Quentin to decipher. Quentin's infatuation with Margo deepens and he convinces his two best friends Ben and Radar to tag along on a road trip in search of Margo. The trio becomes a quintuplet when joined by Radar's girlfriend and Ben's love interest Lacey. This road trip segment which forms the bones of the film plays as one prolonged montage of clichéd friendship and exciting new love experiences.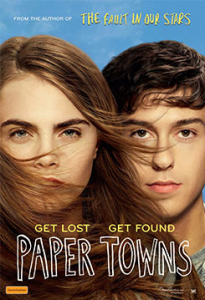 Paper Towns is pleasant enough, but at it's crux that is the biggest flaw of the film. Nothing feels too important, there is no air of tension nor excitement present. The film plays like a cheap photocopy. The characters are simply not interesting enough to merit much investment and the pivotal end moments of the film wash over the viewer as luke warm mild surf. Coming of age films walk a very thin line. When they come off well they are superb. However, too sentimental and they can play as cheesy which Paper Towns itself suffers from. That's not too say the film doesn't deserve praise, as there is plenty to enjoy here. Quentin's relationship with his friends is comedic and refreshing. The film captures the zeitgeist of the time in a wonderfully effervescent manner. With plenty of cultural point of references ranging from Walt Whitman to Billy Bragg.
Paper Towns is a familiar coming of age tale with a somewhat original ending. Like its predecessors the fun lies in the relationships, the nostalgia they bring to adults and the compass they supply for the 15-21 year olds. The film has a somewhat mixed message. It takes to task the intrinsic flaws of one way idolatry, that its cultural contemporaries such as Twilight and 50 Shades of Grey perpetuate as seemingly okay as long as your protagonist is attractive. Yet Quentin's two best friends both end up entrenched with the fairy tale hero-princess parables.  The whole thing feels contrarian, trying to showcase the naivety of happily ever afters yet rewarding the viewer with exactly that.  Schreier has made a fun young romance with an excellent sound track and talented young cast but he is hindered by certain plot and character flaws. The film deserves props for its originality but is somewhat poorly executed. Beyond that it's intended young adult audience will greatly enjoy this popcorn hit.
Paper Towns is in Australian cinemas from 16 July through 20th Century Fox.