Thanks to StudioCanal Australia, we're giving away 10 double passes for the new German film, from the director of DOWNFALL, 13 MINTUES, in cinemas from July 23.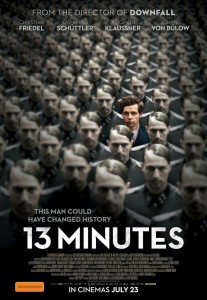 Film Synopsis: 13 MINUTES tells the story of a carpenter from Königsbronn.  Georg Elser was a man who could have changed world history and saved millions of lives if only he had 13 more minutes.  The bomb he personally assembled would have torn apart Adolf Hitler and his henchmen on 8 November 1939, but, Hitler left the scene of the attempted assassination earlier than expected, leaving Elser to fail catastrophically, and deal with consequences.
How to enter:
1/ Subscribe to our newsletter at http://eepurl.com/40DaX
2/ Send your name and mailing address to giveaways@filmblerg.com
Competition opens 9am AEST Monday 20th July, 2015 and closes 5pm AEST Sunday 26th July 2015.
Terms and Conditions
1/ Prizes are eligible only to Australian residents.
2/ Film Blerg and StudioCanal cannot be held accountable for any delay or loss in prizes.
3/ You must subscribe to the Film Blerg newsletter to be eligible.
4/ Any information sent remains confidential.