Brendan Cowell directs his first feature with Ruben Guthrie, and delivers a witty and interesting film. Adapted from his very successful stage play of the same name, Cowell delivers a slick production which observes the tenuous relationship between a man and his drink.
Ruben Guthrie (Patrick Brammall) has just won another award for his advertising prowess, and celebrates with a lavish pool party at his harbor side home. Booze, drugs, barely dressed guests: the party has it all. Only thing missing? Guest of honour making a fool of himself. No, wait – got that too. Ruben attempts a jump from the roof into the pool, fully suited. Broken arm, broken award statue, but broken pride? Not so much. Ruben maintains it's just a big night, but fiancé Zoya (Abbey Lee) and mother Susan (Robyn Nevin) insist Ruben face his demons at an AA meeting.
When Ruben fails to take the situation of his drinking seriously, Zoya packs up and returns to her mother in the Czech Republic. Ruben's efforts to persuade Zoya to stay result in her issuing him with a deal: if he can stay off the booze for an entire year then he can come and find her in the snow and they might save their relationship. Ruben accepts the deal, not quite realising just how hard it will be for him – and his mates and colleagues – to accept his sobriety.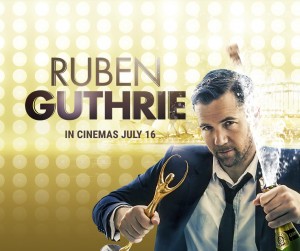 Ruben sticks with his meetings, joining a hip AA group on the beach front. Despite the pressure from family and friends, he manages to remain sober and embraces 'the movement' with a woman he meets at the meetings, Virginia (Harriet Dyer). The problem is whether Ruben is more obnoxious as a drunk or in his 'born again' sobriety.
Ruben Guthrie hits scarily close to home. Zoya describes Australia as an alcoholic nation on several occasions – at first this seems like a harsh charge, but as the film wears on it becomes more and more fair. As Ruben tries not to drink it becomes clear that his peers have not accepted his position, offering wine when he won't accept spirits, and a beer when he won't drink wine. It is a troubling picture of what is many Australians' social life. Writer/ director Cowell seems to be making an effort to make an observation of Australian culture, rather than trying to preach or judge. But his observations make for a tough pill to swallow.
Despite the sobering content, Ruben Guthrie is a funny film. The performances are really superb, and highlight just what a great pool of talent Australia has on offer. Alex Dimitriades has a wonderful role as Ruben's best friend Damian – his performance is fabulous. Nevin and Jack Thompson are great in the roles of Ruben's parents. There are some bumps in the film; the script is witty, but too wordy in places, and the blunt ending might prove too frustrating for some viewers. But ultimately, let's hope we see much more Australian filmmaking of this calibre, hopefully from these people.
Ruben Guthrie is in Australian cinemas from 16 July through Madman.