After what seems like an eternity, musical theatre fans finally have the chance to see the long-awaited film adaptation of the Off-Broadway hit, The Last Five Years. After playing a very limited release in the US, it arrives in Australia almost five months later with little fanfare. Only the most devout fans will even be aware of its existence, but maybe that's for the best.
The Last Five Years chronicles the five year relationship between struggling actress, Cathy (Anna Kendrick) and rising novelist, Jamie (Jeremy Jordan). The film follows the structure of the stage show, and this may confuse viewers who see the film unawares. Cathy's story is told in reverse chronological order, beginning with her heart-break and concluding with her newfound love. Jamie's story conversely follows a chronological timeline, starting with his energised infatuation for Cathy, and ending with pain and regret. The two time lines intersect in the middle with their engagement and wedding. While in the show the two lovers are rarely on stage together, they share almost every scene here, though each song remains a solo number with the exception of the middle and end scenes. The contrasting time lines make for a roller coaster viewing experience, with the film's ending bitter-sweet. Though this is a unique approach to storytelling, and one that assumedly works well on stage, it could have been made clearer on film – even a brief opening title would have easily cleared up some of the confusion.
The Last Five Years is made for the fans, and it may be a blessing that those not so partial to heartfelt break-outs into song will miss it. Even the diehards may squirm at the choreographed bedroom antics that accompany some of the songs, with Richard LaGravenese's stagey direction often cringe-inducing. Those who are prone to criticising the musical genre will likely find much to despise here, especially given that it's an entirely sung-through musical. But this film isn't for those people, so they can take their hate elsewhere while us musical nerds go out of our way to find one of the few tiny cinemas screening this secret gem.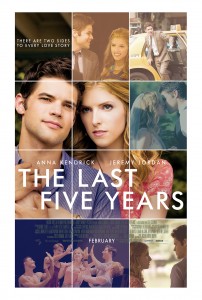 For the nerds, directing misdemeanours can be forgiven when you hear the sheer beauty of Jason Robert Brown's incredible score sung by a phenomenal pair of voices in the form of the sublime Anna Kendrick and Jeremy Jordan. As is often the case with movie musical soundtracks, the score sounds better than ever before thanks to improved orchestrations and recording quality. Brown uses re-occurring motifs in various stages of Cathy and Jamie's relationship so that loving exchanges take on ominous tones when used in different contexts. Every single song is a work of art, with Brown's melodies often going in unexpected directions.
Jeremy Jordan (SMASH) is certainly carving a niche for himself as the cheeky lover-turned-arsehole who you can't help but swoon for. When that crazy-good belt leaves his lips – hot damn, get me a bucket and cool me down. But Anna Kendrick (Pitch Perfect, Into the Woods) is the true revelation, in what is very likely the best performance of her career thus far. Her broken smile has the power to both lift your heart and shatter it into pieces, and she makes the awkward direction bearable. Buying her as a struggling actress is a bit of a stretch, however.
Essentially a story about a failed relationship, The Last Five Years may have struggled to fetch a wider release because of assumptions about viewers' willingness to embrace such a story. While we do witness genuine love between our two protagonists, one can't help but leave in a mild haze of depression at the conclusion of the film. But such is life. And this is a story that will resonate with anyone who's ever had their heart broken after previously believing they'd found their life partner. Cathy's naïve joy at the end of the film/start of the relationship is all the more poignant, and if a film has the power to crush your bleeding heart, then bravo. If there's one flaw in Brown's story, it's that it seems heavily biased towards Cathy. However, considering it's based on Brown's own marriage breakdown, his willingness to cop the bulk of the blame seems admirable.
Those hoping to catch The Last Five Years in cinemas are advised to get on it quick smart before it leaves without a trace. Those outside of the niche fan base may be unsatisfied due to the sad storyline, unusual structure, sung-through nature of the genre, and the awkward direction. But if, like this reviewer, you are committed to the genre, and Anna Kendrick is your spirit animal while Jeremy Jordan melts your butter, get ready to feel all the feels in this simply beautiful musical.
The Last Five Years is in Australian Cinemas from 2 July through Regency Films.