It has been four years since Amy Winehouse passed away at the age of 27, and it goes without saying that her life was tragically short. Her undeniable, irrepressible talent was at times overshadowed by her persistent struggles with alcohol and drugs, documented by the relentless paparazzi and splashed all over the media. Director Asif Kapadia's documentary Amy presents a stunningly intimate insight into her life through an expansive collection of video clips and interview excerpts. The result: a thoroughly engrossing portrait of one of contemporary music's most vital artists.
Much like his previous documentary Senna, Kapadia does not use an overarching narrator to tie the story together. Instead, he patches video footage and multiple voiceovers, all seamlessly edited together into a coherent montage. The footage is varied, often uncomfortably intimate – family videos, meetings with record producers, holidays, rides in cars, stints in rehab, live performances. These clips are accompanied by observations and commentary from a range of people, from family members including her parents and ex-husband Blake Fielder-Civil, to musical collaborators such as producers Salaam Remi and Mark Ronson and her manager Nick Shymansky. Their often brutally honest insights and confessions invoke varied emotional responses: empathy for those who wanted to help her but were pushed away, frustration at those who, in retrospect, could have done more of the right things or did too much of the wrong things, a little envy at those who were fortunate enough to see her blossoming talent first-hand.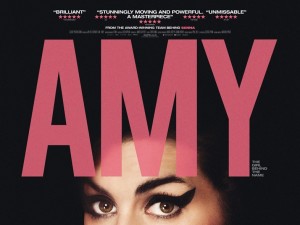 But overall what Kapadia does best is to portray both her troubles and her talent with resolute directness. He does not hold back on recounting her very public struggles, brought out by her meteoric rise to fame. She is portrayed as desperately ill-equipped to deal with her problems, and even before she became famous she readily admitted that she would struggle to cope. But this does not mean that she should be treated as entirely blameless, and this only exacerbates the sense of helpless inevitability, anguish and remorse that builds up throughout the film.
However, Amy also serves as a potent tribute of her towering talent, where we are shown to sides of her that the paparazzi and media did not capture: clips of her teenage self in which her remarkable vocal ability is immediately apparent, footage of her expressing her deep and unqualified love for music, especially jazz. We see this love translated and made contemporary through her lyrics and vocal prowess, where her pain and hurt are channelled through a flair for words and enunciation that was thoroughly her own – from the melancholy bluntness of 'Back to Black' to the laconic defiance of 'Rehab'. Ultimately, we are given tangible and renewed appreciation of exactly how much of an original she was, and of the indelible cultural impact she made in her short life.
Amy is in Australian cinemas from 2 July through Entertainment One.