Thanks to Becker Film Group, we're giving away 10 DVDs of the new John Travolta thriller THE FORGER, available on DVD, Blu Ray and digital from July 8.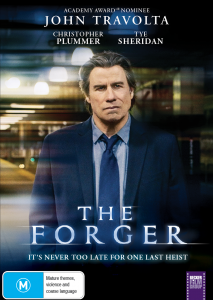 Film Synopsis: Ray Cutter (John Travolta) is a master thief and world-class art forger. He's out on early parole, to spend time with his sick son Will (Tye Sheridan, MUD), thanks to a bribe from ex-boxer turned crook Tommy Keating (Anson Mount, NON-STOP). Together Ray, his Father Joseph (Academy Award® Winner – Christopher Plummer) and son Will, hatch and orchestrate the ultimate heist to replace and steal Monet's Woman with Parasol. An unlikely trio of thieves, they're the only men for the job! Proving, it's never too late for one last heist…
How to enter:
1/ Subscribe to our newsletter at http://eepurl.com/40DaX
2/ Send your name and mailing address to giveaways@filmblerg.com
Competition opens 9am AEST Monday 29th June, 2015 and closes 5pm AEST Sunday 5th July 2015.
Terms and Conditions
1/ Prizes are eligible only to Australian residents.
2/ Film Blerg and Becker Film Group cannot be held accountable for any delay or loss in prizes.
3/ You must subscribe to the Film Blerg newsletter to be eligible.
4/ Any information sent remains confidential.