Thanks to Icon Films Australia, we're giving away 3 doubles passes to the new film surround the Beach Boys and starring Paul Dano and John Cusack LOVE AND MERCY, in cinemas from Thursday 25 June.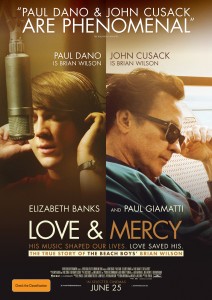 Film Synopsis: LOVE & MERCY tells the true story of musical genius, Brian Wilson and his struggles with brilliance and balance. An unconventional portrait of the artist is painted by interweaving seminal moments from his youth and later life. The role of Brian Wilson is masterfully shared between Paul Dano as the younger and, 1960s Brian; and John Cusack as Wilson in the 1980s. The film explores the many challenges Brian has faced, both from his point of view in the younger years; and from the perspective of his now wife, Melinda (Elizabeth Banks) when she meets Brian in his 40s and under the questionable medical care of Dr. Eugene Landy (Paul Giammati). 

How to enter:
1/ Subscribe to our newsletter at  http://eepurl.com/40DaX
2/ Send your name and mailing address to giveaways@filmblerg.com
Competition opens 9am AEST Friday 26th June, 2015 and closes 5pm AEST Tuesday 30th June 2015.
Terms and Conditions
1/ Prizes are eligible only to Australian residents.
2/ Film Blerg and Icon Films Australia cannot be held accountable for any delay or loss in prizes.
3/ You must subscribe to the Film Blerg newsletter to be eligible.
4/ Any information sent remains confidential.