The Falling is beautifully filmed with a mesmerising score but the overall product fails to impress. While mysteriousness and inexplicability are the staple attraction with many art films, writer/ director Carol Morley has pushed too far with this film. Set in the late 1960s in England the film takes place in a small girl's school. The film charts the experiences of the students and teachers as some sort of mass hysteria breaks out amongst the girls.
Lydia (Maisie Williams) and Abbie (Florence Pugh) are best friends, sharing everything. As Abbie's maturity and sophistication start to overtake Lydia's, especially where boys are concerned, Lydia begins to fear that they will lose each other. Lydia's fears are well founded as Abbie loses her virginity and the friends are disconnected by their differing sets of experiences. Tragedy strikes and Lydia and her remaining school friends begin to experience some strange symptoms.
At a loss of how to manage the students 'symptoms', teachers and mothers initially attempt to ignore the fainting spells overcoming the girls. When the condition escalates to mass hysteria, the headmistress (Monica Dolan) and her deputy (Greta Scacchi) are forced to call in medical and psychiatric help. The subplot of Lydia's home life is equally troubling, as her agoraphobic mother (Maxine Peake) is seemingly oblivious to the incestuous bond developing between Lydia and her brother Kenneth (Joe Cole).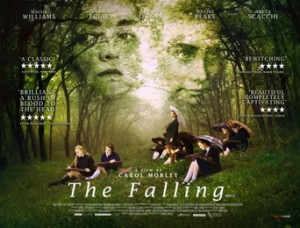 The Falling is certainly reminiscent of Peter Weir's Picnic at Hanging Rock (1975), but there is also a nod to Heavenly Creatures (1994) in the relationship between Lydia and Abbie. There is a twisted nature to the young girls, Lydia in particular. Abbie's sexuality seemingly brings about a disturbed quality in Lydia. Her fainting spells become more and more convenient, at one point her brother merely steps over her as she convulses on the kitchen floor after a row with her mother. And she has an eye twitch which precedes her fainting, possibly a wink to school chums that now is the moment.
Maisie Williams' performance as Lydia is somewhat inseparable from her role as Arya Stark in Game of Thrones. Un-brushed hair, wilful and looking for a fight, she has merely substituted her sword for a school uniform. Her performance is fine, but if anything she is brattish and annoying. The adult women in the film are far more well-rounded; the experience brought by Dolan, Scacchi and Peake is evident.
The film has an ethereal quality, largely thanks to an evocative soundtrack by Tracey Thorn and gorgeous cinematography by Agnes Godard. Unfortunately The Falling is frustrating in its overall execution. While films of a similar nature – Picnic and Hanging Rock, The Virgin Suicides (1999) – are delicate and offer a reward for their ambiguity, The Falling misses the mark. There is no explanation or resolution, and while this may work elsewhere is doesn't work here. The Falling seems to not know what it wants to be.
The Falling is showing at ACMI Cinemas from 29 June until 26 July.