The first feature film from writer/director Talya Lavie can best be summarized by M*A*S*H crossed with Lena Dunham's Girls, with a spoonful of The Office thrown in for good measure. This award winning film from Israel is often funny, sometimes serious, sometimes absurd and, above all, constantly fun.
The tale is presented in three parts: 'The Replacement', 'The Virgin' and 'The Commander', to say what happens in each one would be to spoil it but we spend time with a cohort of girls in their early twenties slogging through dull military service in the office of an army base deep in the Israeli desert. The main characters are best-friends Zohar (Dana Ivgy) and Daffi (Nelly Tagar), who spend their time beating minesweeper records on the office computers and trying to piss off their uppity boss Rama (Shani Klein). Each of the three segments has a beginning/middle/end and focus on a specific aspect of character's life: introducing the new girl, falling absurdly in love with someone who they hardly know, trying to lose their virginity, dealing with a Russian girl possessed by an evil spirit…for some reason. Each story is as good as the previous section, the quality of the script stands up in all three and Lavie's skills as a writer are obvious.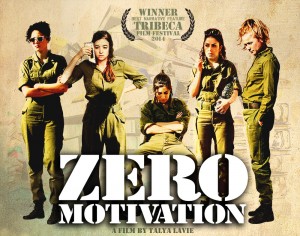 With all the dark and serious global politics that we constantly hear coming out of this part of the world, it's so nice to be reminded of the obvious but easy to forget fact that the young adults in Israel act just like the young adults everywhere else. Even though they going through compulsive military service, they're still just as bored and uninspired as every other person their age, come to think of it, none of these characters would be out of place in Mean Girls. It's also a film that doesn't take itself too seriously, and has a comedic streak as black as they come – One character makes a Holocaust joke that would be jaw-dropping levels of inappropriate if told by anyone outside of Israel.
Perhaps the most surprising and encouraging thing is that the whole film has a deep rooted feminist message running through it, which it wears with pride. It never comes across as deeply opinionated or didactic, but weaved throughout are messages and scenes that will fill feminist hearts with joy. The fact that the film this year that best embodies female empowerment is a black comedy coming out of the Middle-East, focusing on a remote army base in the middle of desert is the last thing you'd expect, but all the more encouraging for it.
For her debut feature, Talya Lavie has delivered a very well written, thoroughly entertaining film that is definitely worth the effort of trying to catch during its very limited Australian release.
Zero Motivation plays at the newly opened Lido Cinemas on June 25th.