Pixar has done it again. With their latest film Inside Out, directed by Pete Docter and with a screenplay by Docter, Meg LeFauve and Josh Cooley, Pixar have produced another exceptionally crafted and cleverly conceived film that should appeal to audiences of all ages, destined to join the likes of such gems as Monsters, Inc., Finding Nemo and Up. Taking their most abstract idea to date they have fashioned a warm and intelligent exploration of nostalgia, growing up and moving on, one that succeeds on all fronts with heartfelt aplomb.
The film focusses on 11-year-old Riley Anderson, whose happy, hockey-loving childhood is disrupted when her family moves from Minnesota to San Francisco. She has difficulty adjusting to her new house and her new school, but all of this plays out inside her head, where her moods and reactions are personified by five emotions: Joy (Amy Poehler), Sadness (Phyllis Smith), Fear (Bill Hader), Anger (Lewis Black) and Disgust (Mindy Kaling). Riley's happy upbringing has made Joy the leader of the group, but as Riley struggles to cope with the abrupt changes in her life the other emotions begin to come to the fore. Joy desperately wants things to return to the way they were, but she comes to confront the possibility that this may no longer be possible, or even desirable.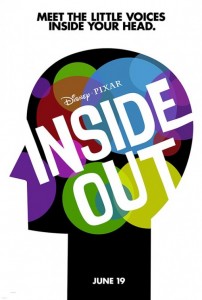 Firstly, all of the film's elements are top-notch. The animation is, perhaps unsurprisingly, handsome and slick, richly hued and crisp. The voicework is excellent, with Poehler and Smith the standouts. Poehler is the perfect choice for Joy's perky, determined optimism, and Smith manages to make her character's melancholy disposition endearing, due in large part to her fantastic line readings. And the screenplay is a winning combination of incisive observation, witty humour and touching sentimentality; even though focussing on five separate emotions may seem at first a recipe for one-dimensional characterisations, the screenplay is layered and nuanced.
But what perhaps makes the film so impressive is its rich conceptualization of how Riley's mind works. Docter has created an inner world whereby not only emotional reactions and mental processes are explained, but also the basis of identity, rendered and realised through the five main emotions, a host of supporting characters and a brilliantly conceived landscape of the mind.   Memories, dreams and imaginary friends, emotional responses, attachments and growth – all are wonderfully explored without ever seeming overexplained. Instead, these more abstract facets are channelled adeptly into the film's more emotional themes about growing up, of how we remember, how we deal with change, how we mature. This is what, perhaps paradoxically, makes the film Pixar's most intellectual and yet most viscerally moving feature to date.
Inside Out is, simply put, another triumph for the film studio, and further testament to their ability to create animated films that deserve, nay demand, to be recognized as cinematic accomplishments beyond any stigma that being an 'animated film' may bring.
Inside Out is in Australian cinemas from 18 June through Disney.