Fear of the outback is an accustomed setting for many Australian films, whether used prominently or subtly; this harsh, vast and unforgiving landscape always has some ominous presence.
Strangerland has similarities to the 70's outback tales Wake in Fright and Walkabout. However, Strangerland is more akin to the latter as it delves into the dynamic of this family rather than the destruction of one man through his vices. Further comparisons to Walkabout come from incorporating the relationship between Indigenous culture, mythology and their intimacy with the land.
Catherine (Nicole Kidman) and Matthew Parker (Joseph Fiennes) are in crisis when their teenagers, Lily (Maddison Brown) and Tommy (Nicholas Hamilton), go missing right before a dust storm engulfs the county town of Nathgari. Leading the search is local detective David Rae (Hugo Weaving), whose investigation unearths the families past troubles with their daughter causing him to believe these same issues have led Lily and Tommy down a darker path.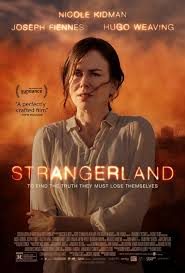 Refreshingly, the towns' inhabitants are not privy to some deeper mystery, and there is no scheming against outsiders. It draws on more realistic small town living and shows how everyone is interrelated by convenience rather than by choice. Making the Parker family's isolation from the rest of the town all the more puzzling while putting emphasis on their dysfunction as a family. Ultimately the Parkers are the most destructive force against this family unit, avoiding their past problems and ignoring their chances at a future.
The film contains some impressive performances from homegrown talent and expected quality from its known stars. Lisa Flanagan and Meyne Wyatt play Burtie and Coreen, a brother and sister who have more association with the Parker family than anyone else in the town. Brown and Hamilton have a certain sibling chemistry that demonstrates their solace in sharing one another's company. Fiennes and Weaving both represent strong opposing characters doing their separate duties, as one man falls apart, the other must piece together the facts. However, it is Kidman's performance that stands out, with the anguish and destruction of Catherine being so seamless it surpasses the film's plot into some sorrowful territory.
A score from True Detective's co-composer Keefus Cianda along with striking cinematography by P.J Dillon collaborate to establish the surroundings of Nathgari as a mysterious reality beyond the limits of the town.
On the whole, it is the major components of Strangerland that don't quite fit together, being a police procedural film wanting to explore the destruction of this family. Whilst not an inconceivable approach, with Prisoners being the perfect example, Strangerland is at times not sure which theme it wants us to invest in more. By creating this imbalance between the two structures it leaves for a slightly underwhelming experience.
Strangerland is bold, thought provoking and an accomplished film from first-time feature director Kim Farrant. Whose skills show her ability to get some great performances from a range of different actors, as well as taking on some interesting subject matter. Given some solid working material there's no doubt Farrant has a lot more in store for the years to come.
Strangerland is in Australian Cinemas from June 11 through Transmission Films.