The original release of 54 (1998) wasn't actually all that memorable. Lots of partying, lots of drugs and sex, pretty light weight on the story, just a film. The newly released director's cut seems like a vast improvement on the original.
54: The Director's Cut takes us back to the heyday of the late 1970's New York nightclub scene, to the place where it all happened; Studio 54. The man who made it happen was nightclub owner and manager Steve Rubell, played by Mike Myers. The film traces the trajectory of Shane O'Shea (Ryan Phillippe), a kid from Jersey who crosses the bridge into New York to work at Studio 54.
Shane is a working class kid who wants to get out of his hometown, not so much in search of the bright lights as in search of the dimmed lights of the night club scene. He gets a job as a bus boy in Studio 54 and moves to the city, leaving behind his father and sisters who are worried he will run into trouble. At the club he meets Greg (Breckin Meyer) and Anita (Salma Hayek) and moves in with them, making a new family of sorts.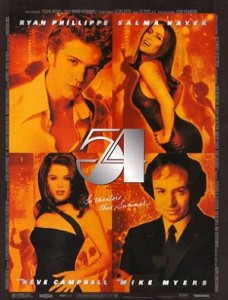 Shane gradually works his way up the food chain at the club, earning a role as bartender. The club scene is pretty wild and Shane gradually becomes immersed in a culture of drugs, sex and more drugs. His cherubic good looks mean his is a hit with ladies and men alike, and is particularly popular with Steve and his higher end, celebrity clientele. The film culminates on New Years Eve, as the 70s are ending and the 80s are about to begin.
Perhaps age has mellowed this viewer, but what is most interesting about this film, and perhaps more specifically, this version, is the way it captures a moment in time. Recreating – and thereby documenting – an era and a movement seem to be one of the values of 54. The late 70s gives way to the excess of the 80s, and Studio 54 was on the cusp of that. Framing the historical backdrop of the film with the relationships of Shane, particularly with his friends Greg and Anita, helps to augment the façade of glamour. A façade which does peel away.
Director Mark Christopher has produced a much better film with the re-edited version of 54. Although there are shifts in the picture quality where different scenes have been added, the result is a superior narrative. The stories of Shane, Greg and Anita are more complex, and as a result the larger picture has more impact.