If anyone's going to save you from the most devastating earthquake the world has ever seen, it makes sense that it would be The Rock. But his star billing probably means that audiences won't be holding out too much hope for a high quality movie. And they would be correct.
Dwayne Johnson (a.k.a. The Rock) stars in San Andreas as Ray, a rescue-helicopter pilot and pending divorcé. There's some embarrassingly obvious set-up in the opening scenes – he's in the business of saving lives; he didn't save his daughter's; his ex, Emma (Carla Gugino) has a new wanky swanky boyfriend, Daniel (Ioan Gruffold); and his rescue work means he can't accompany his other daughter, Blake (Alexandra Daddario) back to college. Oh but where could this lead?! Meanwhile, seismologist Lawrence Hayes (Paul Giamatti) predicts a major earthquake along the San Andreas Fault which snakes through California. Could he be right? Well, predictability is something you can definitely count on in this film.
While the action scenes are entertaining enough, some of Brad Peyton's direction feels clumsy. This isn't so surprising given his résumé, which boasts only two feature films, both critically unsuccessful sequels: Journey 2: The Mysterious Island and Cats & Dogs: The Revenge of Kitty Galore. With San Andreas, he's perhaps made some minor improvements. What is particularly disappointing, however, is Carlton Cuse's screenplay. For one of the writers and show runners of Lost, this reviewer certainly expected better. Even if it is a disaster movie starring The Rock. Much of the dialogue is deplorable, with clichéd one-liners sprouting up all over the place. At times they're so bad, they're almost good. Almost.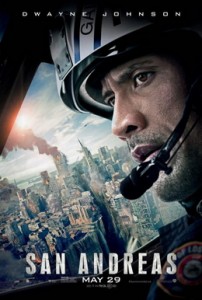 The characters are as one-dimensional as you might expect. Ray, Blake and Emma make one unnaturally attractive family. Who knew that hair could stay perfectly styled in the midst of an earthquake? The three of them are portrayed as perfect people with perfect boobs/pecs to match. The Rock may be a bad-arse, but he also shows some feels here too. Or at least he tries to – the tears don't quite come, despite his efforts. Emma's new boyfriend Daniel is quickly painted as a straight villain, for NO ONE SHALL COMPETE WITH THE ROCK. It's always tempting to hope that such characters will perhaps have a little more depth, but then, nup, he pushes another guy to his death to save his own life. No ambiguity there – don't stress audience members, you don't have to think that hard.
The Rock isn't awful, and he certainly looks the part of a rescue pilot – those arms could carry a small village. Carla Gugino is stronger (acting-wise) as Emma, though forgettable. Alexandra Daddario is certainly an improvement on Megan Fox of the Transformers franchise, though it seems fairly obvious she was cast for similar reasons. Aussie Hugo Johnstone-Burt and Art Parkinson do try their best as brothers Ben and Ollie, but the weak dialogue betrays them. Paul Giamatti, on the other hand, manages to make any role bearable, and is the film's saving grace. Kylie Minogue also shows up (the film was shot partly on the Gold Coast) to deliver one completely out of place bit of dialogue for the sake of back-story. The lazy writing on offer here makes Kylie's own lyrics sound like Shakespeare.
In films like these, the science is often way off, and it's hardly surprising that the film contains a few errors. The earthquake wouldn't pass a nine on the Richter scale, there wouldn't be a tsunami, and a man in danger of losing a second daughter would probably produce actual tears. But for the most part, it doesn't do too badly in this respect, and at best includes a few earthquake survival tips. Unfortunately, the screenplay really is disgraceful – oh look, they just happen to find a spare light plane! How annoyingly convenient that is.
San Andreas is a by the numbers action flick, and for some mindless entertainment, it's not a total waste of time. It tests the limits of plausibility time and time again, and has some of the worst dialogue heard on screen this year. To its credit, it's never boring. Just stupid.
San Andreas is in Australian cinemas from 28 May through Roadshow.