Partisan is the debut film of Australian writer/director Ariel Kleiman, a grim coming of age tale set in the outskirts of an unnamed city playing host to a strange cult-like commune lead by Gregori (Vincent Cassel). We see this strange world though the perspective of Alexander (Jeremy Chabriel), a young boy of eleven, who has grown up in this environment and has learned to see the world as a place where everyone else is there to hurt you and the ones you love, where the only way to survive is to strike first. Like all the other children who grew up in the commune, he first seems like a perfectly polite, normal boy but with one very dark exception: he has been trained in the art of killing, with a very warped sense of acceptance to violence. As the film progresses, the world he knows begins to make less sense, he begins to question the way he views the world and the walls of his segregated home get steadily more threatening.
Partisan holds its cards very close to its chest, there's a sense of something malevolent lurking just below the surface of this slow, original and quite brilliant debut feature. It's reminiscent of 2011's Martha Marcy May Marlene, which explored the strange world of cults in a subtle, slowly evolving way that will undoubtedly put ice in your spine as the film's dark underbelly begins revealing itself. Put the two films together and it could make one hell of a double feature.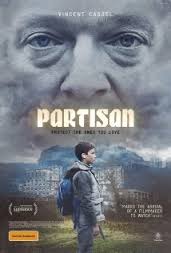 There's a rarely seen depth and a complexity to this unsettling film, and the sense of dread builds like an impeccably crafted horror, once it has you it doesn't let go. The slow moving narrative is a master class of visual storytelling and cinematographer Germain McMicking captures it beautifully;  the way the camera lingers on little details of commune, on the unexplained scars on Gergori's back or the extended close up of a character's hands kneading minced meat with the sticky, squelching noise that accompanies it.
One of the most memorable parts is the setting, the interior of the commune was shot in Melbourne and credit is due to set designer Sarah Cyngler, who also co-wrote the film with Ariel Kleiman (and is actually his partner) but the truly breathtaking images are when we get to see outside. The exterior was shot in Georgia (the one next to Russia where Stalin grew up, not the state in the USA) and an unnamed city lurks in the background like a giant grey skeleton, it looks like someone built a row of high-rise flats and then left it there to rot. There's something almost post-apocalyptic about it and it was stroke of genius whoever thought to film there.
Young Jeremy Chabriel holds himself very well in his first screen performance; he's able to express everything the audience needs to know with very little dialogue and the film holds together because of him, but the true revelation here is Vincent Cassel. Gregori might go down as one of the best characters of the year, not for what we know about him, but for what we don't. Whenever he's on screen he holds himself with a calm, composed but silently threatening demeanor – What kind of sinister thoughts lie behind that sharp gaze and curly beard, what twisted backstory made him into the man we see before us.
If Ariel Kleiman can make a film as compelling as this for his first feature, he's a director to keep a close eye out for in the future. It's one of those films where you walk out in a daze and need some quiet time and a coffee to digest it; you want to watch it again and try and work out the dark secrets that lie beneath. Partisan is one of the best films of the year.
Partisan is in Australian cinemas from 28 May through Madman.