Wild Tales, written and directed by Damián Szifron, certainly lives up to its name. It was nominated as Argentina's entry for the Best Foreign Language Film at this year's Academy Awards, and currently holds the title of the most-seen Argentinian film of all time. The film is comprised of six separate stories, all united by their wickedly satirical themes of revenge and retribution.
Delving into the plots of the stories in too much detail or depth would likely detract from their impact. In fact, if feasible (except, perhaps, reading this review) it is probably best if you go in with as little knowledge as possible so that any twists and turns remain delightfully unexpected. Broadly speaking, the stories all begin innocently enough, grounded by the mundane, everyday lives of seemingly normal, everyday people. But soon the situations and characters veer off into darkly comic, outright hilarious chaos. And yet critically, Szifron proves himself adept at ensuring the narratives do not descend into completely uncontrolled farce. Each story carefully generates and mounts tension through the build-up of smaller decisions, events and reactions, and in this respect it is evident that each one has been carefully structured and paced to reach deliciously unpredictable 'resolutions'.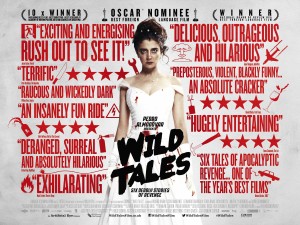 Szifron also demonstrates his skill in exploring and integrating more serious subject matter. For some of the stories, the context for the over-the-top scenarios is a more subtle commentary and exploration of broader themes and problems – class differences, the political influence of the mafia in society, the frustrations of bureaucracy, the disturbing malleability of the legal system. Additionally, each story speaks in various ways about how seemingly ordinary people can be pushed to their limits by these, and other, factors, all contributing to them lashing out in unexpected, often aggressive ways. Szifron manages to balance and juxtapose these two tones – hilarious madness with more subtle social weightiness – with an assured ease and flair.
The actors and their performances, too, are self-aware in ways that make the stories pop. No doubt, their characters' behaviour and responses are riotous, even unhinged. But they are also smart enough to ensure a balance between seriousness and levity, with the requisite flourishes of melodrama. They understand that the humour stems from their utter commitment to the crazed logics of their characters, flaws and all.
Overall, Wild Tales was a very pleasant surprise – smart, witty, uproariously entertaining and not to be missed.
Wild Tales is in Australian cinemas from 21 May through Sony Pictures.