Melissa McCarthy is wonderfully funny and warm in Spy, a CIA comedy spoof which is surprisingly well written and directed. The premise of this film does suggest dangerous territory – too many action comedy hybrids fall well short of the mark. But this film is in very good hands thanks to writer/director Paul Feig and the film's lead McCarthy.
McCarthy is Susan Cooper, a CIA agent relegated to desk work in the dingy, rodent infested CIA headquarters. She is support to agent Bradley Fine (Jude Law), a suave and successful operative, providing him with constant updates through an earpiece during their missions. Frumpy and unassuming, Susan secretly pines for Fine and hangs on to every hint of affection he offers her. When Fine goes missing during a mission, Susan is devastated.
Fine's disappearance at the hands of Russian spy Rayna Boyanov (Rose Byrne) leaves the CIA with a personnel problem: there are no field agents who are still able to work undercover. Cooper volunteers herself to the field, much to the disgust of experienced operative Rick Ford (Jason Statham). Agency boss (Allison Janney) has reservations, but with terrorists and nuclear weaponry at large, allows Cooper to go undercover to Paris on a basic intelligence gathering mission.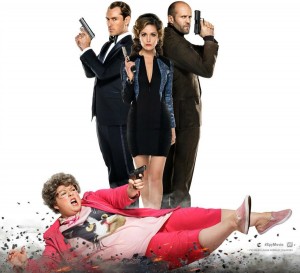 With her colleague Nancy (Miranda Hart) as her ally, Susan prepares for her mission. Unlike James Bond, Susan's gadgets are not so glamorous. The CIA boffins have provided Susan with her poison darts and pepper spray in the form of anti-fungal cream and stool softener. Once in Europe, Cooper proves to be more resourceful than she would appear, taking down several enemy agents on her own. Fed up with various 'frumpy middle-aged lady' disguises, Cooper stages a makeover. She manages to infiltrate Rayna's gang and is appointed her personal bodyguard.
This film is really very funny, and thankfully the writing and direction are much more sophisticated than was expected. Feig previously directed Bridesmaids and he is clearly very well suited to working with clever, funny and talented women. The plot gives all the information the audience need, nothing superfluous, and although complicated in places, there is no issue in keeping abreast of the storyline. McCarthy is given plenty of freedom to be hilarious and delightful, Feig deserves credit for providing a role in which she can be so good.
In addition to McCarthy's great performance, she is very well supported by an accomplished team. Jason Statham uses his role to poke fun at many of his previous roles as his character lists his ridiculous accomplishments as a spy (including sewing his own arm back on) in an effort to shake Susan's confidence. Jude Law and Rose Byrne are solid as usual, and they seem to realize the limelight belongs to McCarthy. Janney and Hart are both talented women, excellent in their supporting roles.
Feig and McCarthy worked together on Bridesmaids and there seems to be a good professional relationship here. If these are the sorts of films they are making together, then this reviewer hopes there will be more.
Spy is in Australian cinemas from 21 May from 20th Century Fox.