Who Am I – No System Is Safe is the sophomore feature from German director Baran bo Odar. The film takes place in the real world and the depths of the dark net. It is a unique mix of superhero and cyber thriller with strong nihilistic and anarchistic undertones and engaging from start to finish.
Rising Berlin star Tom Schilling plays Benjamin, a Ritalin addict and slight social outcast, who has hidden superhero aspirations. Benjamin is drawn into the fast paced subversive world of computer hacking after a chance encounter with charismatic Max (Elyas M'Barek). Max introduces him to his fellow hackers- adrenaline junkie Stephan (Wotan Wilke Möhring) and hardware aficionado Paul (Antoine Monot Jr). Collectively they decide to spread online and tangible mayhem through their individual computer and real world skills.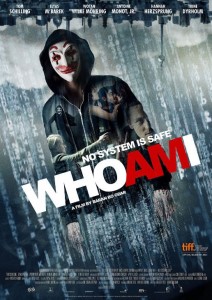 Benjamin is forced into a world of drugs, women and fast cars, the exploits of their lifestyle. The group are disenfranchised with society, and with no clear end goals they target any symbols of authority they can. Their virgin act is to upload a video of Adolf Hitler fornicating with a poodle at a major political party meeting.  Caught up in the pace of thrilling digital hijinks things come to a crashing halt after Benjamin steals information from German national security. In an effort to impress the group's idol, a hacking underground hero known as MRX, Benjamin passes this information onto the mysterious MRX  via the dark net which begins a cascading series of events leading to the group being hunted by both a Russian cyber gang and European authorities.
The hacking world is exposed quite well with accurate jargon and references. The dark net is illuminated in a brilliant and inventive way, with encounters metaphorically taking place on a moving rusty subway carriage. This film is extremely clever, full of superhero/anti hero binaries.  The symbology  is quite strong with many parallels to real world hacking groups. There goals are often juvenilistic and fairly high stakes/low gain driven by anarchistic and revolutionary ideals.
The cinematography and pacing are superb. Who Am I – No System Is Safe is sure to be a Euro hit. Within the eggshell of cyber hacking is the classic boy wooing romantic interest and strong themes of friendship and justice. Drawing you in as a quasi The Social Network meets Spiderman the end result is surprisingly something akin to Fight Club, a film referenced multiple times within Who Am I – No System Is Safe. Baran bo Odar has done a wonderful job and this film is sure to be a hit.
Who Am I – No System Is Safe is screening at the 2015 Audi Festival of German Films.