It's so nice to see extras getting into their roles. All too often, extras in crowds betray a lacklustre commitment to chanting, laughing or whatever antics the collective is supposed to be doing. Julian Jarrold's A Royal Night Out, is a rousing exception, and given the landmark occasion these extras were asked to replicate – the party to mark the end of World War II – these enthusiastic onlookers contribute a great deal to making this film a joy to behold.
Winston Churchill has just put out the notice that firing has ceased, the war is over and that a night of celebration is in order. King George (Rupert Everett) is poised to address the masses to ring in a new and challenging period of rebuilding, with London falling apart after years of air raids and food shortages. But, for tonight at least, there's still cause for a lindy hop. The night is raucous, the people jolly and trollied. And two of the most eager citizens hoping to get amongst it are none other than the two princesses, Elizabeth (Sarah Gadon) and Margaret (Bel Powley) – the former being the sensible, level-headed one, the latter a loose cannon channelling Lydia Bennett. For Elizabeth, this may be her first and last chance to experience life among the people, and to find out just what they think of the royals. Margaret is more concerned with getting to the party at Chelsea Barracks – what a lout.
As they become separated, Margaret embarks on her own riotous odyssey, while Elizabeth tries haplessly to track her sister down on her own more sobering tour of the war's aftermath, latching onto a deserting and disillusioned serviceman whom she drafts in as her companion and protector for the night.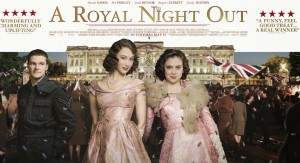 There's a lot to like about this. The heightened mood is palpable and the tone suitably light. Elizabeth provides the sensitivity; and Margaret the comic relief. How many grains of truth there are in the story, who can say apart from the queen herself? Mind you, it's nice to think that our monarch has been a rebel at one point or another. After all, a major aspect this film is the stifling nature of being part of the royal family; no matter how decent George and Elizabeth senior (Emily Watson) are as parents, popping down to the pub for a pint and dealing with money aren't really things you'd need to worry about if you're a household face to millions. There's a nice moment where the King is even required to ask the footmen for money, and another where he laments never having been able to take a bus.
Fluff this may be, and its end does get become somewhat sugary; but it's good fluff. Bel Powley is especially great fun as Margaret, and Roger Allam's cameo as an opportunistic brothel owner is also brilliant, aided by Trevor De Silva and Kevin Hood's witty, chaotic and lighthearted screenplay, which also manages to keep some perspective regarding the huge recovery effort still ahead of the nation and globe.
A Royal Night Out is in Australian cinemas from 14 May through Paramount Pictures.