Think of animation and you think of Studio Ghibli, the Japanese studio that has given us such animated gems as My Neighbor Totoro, Princess Mononoke and Grave of the Fireflies. The latest, and possibly last, addition to their already respectful list of films is When Marnie Was There, directed by Hiromasa Yonebayashi (2010's The Secret World of Arrietty) and adapted from the children's novel by Joan G. Robinson.
After having an asthma attack at her school, where she spends her time sitting alone and drawing, twelve year-old Anna is sent to a seaside town for the summer to live with her aunt and uncle. She is shy and has tremendous trouble interacting with strangers. While exploring one afternoon she finds an abandoned old mansion on the other side of town and shortly after begins having dreams about a beautiful young girl who lives in the top floor of the mansion.  Soon after Anna meets and begins interacting with a girl who looks just like the one from her dreams, named Marnie, who it's not clear is an imaginary friend or possibly a ghost. She is the first friend that Anna has ever had, they grow closer together as the days pass and in a haze summertime friendship the lines between dream, imagination and reality blur together.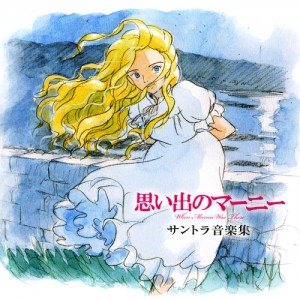 At this point it might go without needing to be said about a Studio Ghibli film, but the hand-drawn animation is beautiful. Every frame is a work of art; the detail, color and character animation are astonishing. It seems that in these technical days of computer graphics and 3D, animation drawn by hand is becoming increasingly rare so it's always lovely to see a film delicately crafted by an artist's hand. The sound-dubbing is detailed and the voice acting is great.
One of the things Studio Ghibli does so well is have something meaningful to say, with some fairly mature themes weaved into the story. For example Mononoke took a complex and grown-up way of looking at deforestation and the aforementioned Grave of the Fireflies is one of the most deeply affecting war films ever made. When Marnie Was There isn't afraid to show what it's like being painfully shy and shut off from others, and some of the story beats are darker than we've come to expect with all the colorful but ultimately meaningless Hollywood productions we Westerners grew up with. It will resonate especially with all the introverts, particularly if you were that person in school who kept to themselves.
This is quite possible the last film that Studio Ghibli will ever make, and it's sad to be saying goodbye to the company that has created some of the finest ever works of animation. When Marnie Was There is a lovely way to say goodbye – a work of stunning animation, intriguing mystery and a touching love story. It stands proudly alongside Ghibli's truly impressive filmography.
When Marnie Was There is in Australian cinemas from 14 May through Madman.