In the screen and social media fixated world of 2015, Unfriended fits in quite snug. Set place entirely on browser, Skype, messenger and desktop, this newest low budget and highly marketed cyber horror takes place entirely on a desktop computer. This gimmick fades in and out of novelty to nauseating. Unfriended is this generation's Blair Witch Project, replacing shaky cam for skype and terror for tedium.
Russian director Levan Gabriadze has pulled together a formulaic teen supernatural with a fresh set of young faces. Once the novelty sets in that yes, you will be staring at a monitor for 90 minutes, we are introduced via a saucy teenage skype conversation, to sweethearts Blaire (Shelley Hennig)  and Mitch (Moses Storm). A group conversation is started with other cookie cutter clichés; jock, stuck up girl, abrasive nerd, and airhead blonde and you have all the ingredients for a teenage gore fest. The trope of young actors do a convincing job, with Courtney Halverson and Moses Storm as the stand outs. The film, unconventional gimmick or not, settles into a who's next scenario. That isn't necessarily a bad thing, and these types of movies can be great popcorn, goosebump inducing fun but the scares are lackluster and there isn't enough meat in the plot to pull in anyone over the age of 16.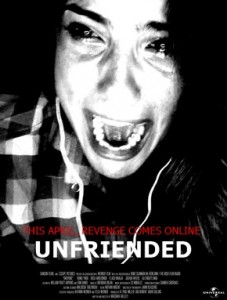 The film touches on the issues surrounding cyber sex but really hones in on the destructive nature of cyber bullying. It is first anniversary of Laura Barns's (Heather Sossaman) death. Laura's suicide was caught on camera after a extremely embarrassing video of her was uploaded anonymously. Her old group of friends are having a late night online group Skype chat, reminiscing about this when they begin to receive unnerving private and group messages. Rifts begin to appear between relationships with friendship ties unravelling as secrets are spilled with no conceivable culprit. That is until paranormal and gruesome happenings begin. The group of terrified youths are ransomed into not logging off lest they suffer a terrible fate.
The real problem with the film is simply that the 'monster' just isn't that scary. A watered down vengeful ghost who's motives and methods have quite big logical inconsistencies. One of the more irreconcilable sequences is Blaire taking a 5 minute time out from a terror filled situation to log onto chat roulette to ask strangers from the globe to phone the police for her. This reviewer wonders why not one peeved parent figure walked through anyone's door to ask why their child was yelling in mortal terror late at night.  No doubt this idea was green lit on the bankability of its marketing campaign, which has been ubiquitous online. This is an ideal film for any young teenage couples looking for a reason to squeeze each other during jump scares but it's doubtful other audiences will appreciate this.
Unfriended is in Australian cinemas from 7 May through Universal Pictures.