Clouds of Sils Maria is a film of layers – layers of stories and experiences. Written and directed by Olivier Assayas, the film has a play-within-the-film and examines issues of aging and celebrity. But more so, there is a meditation on women and womanliness within this film, as older and younger women seemingly try to reflect on themselves.
The film open as actress Maria Enders (Juliette Binoche) and her assistant Valentine (Kirsten Stewart) travel by train to Zurich, where Maria is to accept an award on behalf of her long time friend, a playwright Wilhelm Melchior. En route Valentine discovers that Wilhelm has died, news she must convey to Maria while Maria juggles a collection of mobile phones and calls from divorce attorneys. This upheaval is accentuated by the rocking movement of the train, the constant motion generating anxiety.
Despite her grief, Maria is approached to perform again in one of Wilhelm's plays, Maloja Snake. The play is about an older woman who is seduced by her younger assistant Sigrid and driven to suicide. Maria played Sigrid twenty years earlier, the role serving as the first big break of her career. Now, a young director wants her to revisit the play but this time in the role of the older woman Helena. Valentine convinces Maria to take the role, and together they move into Wilhelm's home at the request of his widow Rosa.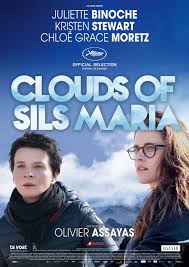 Alone together in the mountain home, Maria and Valentine rehearse the lines of the play. At times it is difficult to know who the dialogue belongs to: Maria and Valentine, or Helena and Sigrid. Tension slowly mounts between Maria and Valentine, in part due to the nature of the play and the remote mountain setting. Also though, Maria and Valentine have conflicting attitudes to the young actress cast as Sigrid (Chloë Grace Moretz). There seems to be some jealousy on both parts, but the tension is most obviously explained by the differing ages and their divergent connection to the modern world.
Audiences looking for a neat film, with all loose ends tied and explanations for everything will be disappointed here. However if you are willing to accept ambiguity and more of a hint of resolution than anything concrete, then there is much reward in Clouds of Sils Maria. Most of the film is Binoche and Stewart alone together. The question of whether the dialogue is between Maria and Valentine or Helena and Sigrid at times seems to extend to Binoche and Stewart. They are wonderful to watch and the mix of affection and frustration their characters feel with each other is compelling. Moretz in her starlet role offers a great balance to their more complex performances. There are some very interesting female dynamics at play here.
The Swiss mountain setting of Sils Maria gives name to both the film and play, thanks to the cloud formation known as the 'Maloja Snake'. The Maloja Snake is a phenomenon involving serpentine clouds weaving through the mountain pass. Like the cloud formation, the story seems to move between the film and play, as well as the roles within both, and Clouds of Sils Maria offers much food for thought. Juliette Binoche is always impressive, no less so in this role where her age and legacy are a feature. Kristen Stewart is equally so, and she contrasts Binoche with youth and promise.
Clouds of Sils Maria is in Australian cinemas from 7 May through Pinnacle.