Adapted from her memoirs of the same name, Testament of Youth chronicles the early life of English novelist and poet Vera Brittain, whose idyllic existence was torn apart by the coming of the first world war. Well intentioned and admirably well crafted, the film falls under the weight of its lofty goals and succumbs to little more then an unintentional melodrama by its conclusion.
In pre-WW1 we're introduced to Vera Brittain (Alicia Vikander), a pre-feminist aspiring poet and writer who is shackled by the patriarchal world around her. Over a long romantic summer – the type that happens in movies – her brother Edward (Taron Egerton) returns from college with two friends, one of which is Roland (Kit Harrington) whom she immediately falls for (despite declaring less then ten minutes previously in the film that she didn't think she would ever love a man). The two start a long distance relationship while they both go off to college and meet occasionally for scenes of clichéd awkwardness. Soon thereafter the war hits their lives as Edward and Roland both enlist. The film then goes from tragedy to tragedy, unfairly playing on audience sympathies, until there is only Vera left.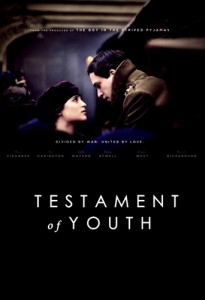 The film features a star making turn for Swedish actress Vikander as Brittain. She rises above the material given to her to craft a complex and powerful portrait of a woman whose life is shattered by the choices of the men around her. She is a natural talent; an equally interesting screen presence in smaller moments as she is in her token big dramatic scenes. Egerton is just as good and radiates charm and quiet intelligence, like Vikander, he is an actor to watch in the future. Less successful, as the sullen love interest, is Harington, who most people will be familiar with from his work on Game of Thrones. He seems to think moody posturing and a permanent scowl equates to depth in his performance, and as a result we're never as affected by his character, or his relationship with Vera, as we should be.
Director James Kent, making his feature debut after a career in English television, is clearly a talented filmmaker. The movie is punctuated with incredible moments of great beauty and clarity of vision, but these moments don't carry through to the narrative as a whole and he seems to have a by-the-numbers approach to the more conventional material. In the moments of great emotion however, his touch is deft and powerful, and offers the hope that if he can find truly personal material for his next film, then he just might craft something truly great.
Deeply flawed, but almost worthwhile for its moments of visual truth and beauty from Kent's direction, Testament of Youth is a confused and pompous melodrama, but you could do a lot worse – particularly for a date movie.
Testament of Youth is in Australian cinemas from 23 April through Transmission Films.