Thanks to Madman Films, we're giving away 3 DVDs for the new Mads Mikkelsen film THE SALVATION, available on disc and digital from May 6.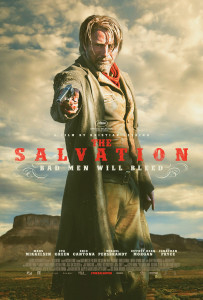 Film Synopsis: Available on disc and digital May 6 we have THE SALVATION starring Mads Mikkelsen. Fans of Western films will delight in this searing tale of revenge and honour from one of Denmark's most accomplished directors, Kristian Levring (The King is Alive and The Intended). 1870, America. Danish immigrant Jon (Mads Mikkelsen) has been waiting for years to bring his wife and son to the United States. When he finally succeeds, moments after their arrival they fall victim to a horrific crime. Out of grief and despair Jon kills the perpetrator, triggering a chain of violence and revenge. The victim's brother is the ruthless Colonel Delarue who terrorises the town of Black Creek and will stop at nothing to avenge his brother. Betrayed and ostracised by the community, Jon must transform himself from peaceful settler to fearless warrior to save the town and find peace.

How to enter:
1/ Subscribe to our newsletter at  http://eepurl.com/40DaX
2/ Send your name and mailing address to giveaways@filmblerg.com
Competition opens 9am AEST Monday 27th April, 2015 and closes 5pm AEST Sunday 3rd May 2015.
Terms and Conditions
1/ Prizes are eligible only to Australian residents.
2/ Film Blerg and Madman Films cannot be held accountable for any delay or loss in prizes.
3/ You must subscribe to the Film Blerg newsletter to be eligible.
4/ Any information sent remains confidential.