For the month of October 2013 the graffiti artist known simply as Banksy took up residence in New York City with the promise of producing a single, original piece of street art for each of the 31 days he was there. This documentary by Chris Moukarbel isn't so much about Banksy like Exit Through the Gift Shop was, rather it's about New York's reaction to the whole thing, which was a work of art in itself, as the escapades of this famously mysterious street artist became international news and soon had a community of totally dedicated followers spring up around it.
Throughout the month, social media was masterfully used as a hype-generating machine, with a picture of the day's new piece and a vague instruction of where to find it being put up on a blog each morning. Soon the whole thing exploded, with legions of the freshly dubbed 'Banksy Hunters' rushing each morning to find the day's new display of stenciled goodness with the same level of reverential dedication that treasure hunters would use to find a piece of the Holy Grail.
The mark of a good documentary is one where even if you have no interest in the subject matter it's still entertaining and keeps you interested throughout. Judging from this, Banksy Does New York is a rousing success, even if you have utterly no interest in graffiti (or 'Street art' as hipsters call it), this is still worth a watch, if only to witness the total devotion that some of Banksy's fans operate on. For example, at one point a man in the gathered crowd offers the owner of a building hundreds of dollars for the door that Banksy stenciled a small portrait on.
It's entirely possible that Banksy isn't one man; he might be a women, or a secret league of street artists working under a single pseudonym. Maybe there's the situation where a whole bunch of copy-cats have started posing as him, like what happened to Batman in that opening scene of The Dark Knight.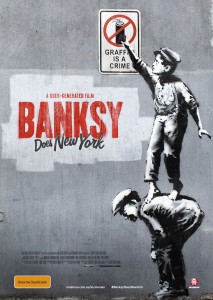 Then again, with a such a dedicated fan base and so much mystery over Banksy's true identity, it's also entirely possible that he's simply an urban legend – The equivalent of the Easter bunny but with a fondness for spray paint, the kind of figure that aspiring street artists tell their children about as they drift off to sleep, that if they're very good Banksy will enrich their lives with humorous yet politically aware stencils in the night. Sooner or later when said children start asking really difficult questions, the parents will give a defeated sigh and reply with 'Well dear… Banksy moves in mysterious ways'.
Occasionally is seems like Banksy is making fun of his own fans, which Moukarbel seems only too happy to show. At one point he employed an old man to sell some of his original works on the streets of NYC at $60 apiece, but didn't tell anyone. For nearly eight hours the old guy sat there and ended up selling only seven portraits (one lucky guy bought four of them to put on the walls of his new apartment). When it was revealed the next day that these canvasses contained original works by none-other than Banksy himself, their valued price went from $60 to $250,000 – a return-on- investment of 416566.67%! At other times, an original Banksy work was picked up by a group of treasure hunters and tried to sell at an officially sanctioned auction house, and didn't receive a single bid.
Even for those who don't know anything about Banksy and who think that graffiti/street art looks stupid and is painted by misguided youth who can't even pull their pants up, this is a really good documentary. Both a great look at the month New York City went crazy for the guy, an interesting look at the subjectivity of art and how the value of such a thing is both totally arbitrary, and faintly ridiculous.
Banksy Does New York is in Australian cinemas from 23 April through Madman.