The Age of Adaline is smartly presented – great costumes and styling, slick cinematography, with a very polished and visually satisfying look overall. Unfortunately this film is very much a case of style over substance, the values of production do not extend to the screenplay, and the plausibility of this film is barely existent. The opening sequence of the film is suggestive of mystery, however The Age of Adaline deteriorates rapidly to the predicable. The narrator describes scientific processes which will remain 'undiscovered until the year 2035' and incredible weather phenomena, which result in the strange quasi-medical immortality of which title character Adaline is the victim.
It is 1930s San Francisco and Adaline Bowman (Blake Lively) is struck by lightning during a snow storm, after crashing her car. She is 29 at the time, widowed and mother to a five year old daughter. A baffling act of science occurs, and Adaline does not age again, remaining 29 for the next 80 years. After running away from the police and the FBI in the 1940s and 50s, Adaline spends the next 50 odd years routinely changing identity and relocating her life, lest anyone discover her secret – or get too close to her. Her only constant friendships are with her daughter, her dog and a blind pianist.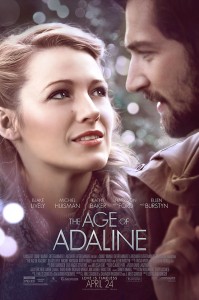 Transitioning to the present day, Adaline is preparing to relocate again. While her daughter Fleming (Ellen Burstyn) – now in her 80s – is unhappy with the impending move, Adaline insists that it has to be done. Yet, she meets a handsome stranger Ellis (Michiel Huisman) who is intent on getting to know her and Adaline begins to yield. After seeing each other for a few weeks, Adaline agrees to join Ellis at his parents wedding anniversary celebrations. On meeting Ellis's parents, Adaline is forced to confront her past in the figure of a former beau, Ellis's father William (Harrison Ford).
This film is visually stunning. Blake Lively is beautiful, and she has a timeless look which lends itself to the period scenes of the film. Her character is born in 1908 and she remains styled in a fashion reminiscent of the 1930s for much of the film. Adaline has a remarkable wardrobe of dresses and accessories, credit is due to Angus Strathie for costuming as this is certainly the most interesting and beautiful aspect to this film. Strathie has previously won an Oscar, his superior experience and expertise are clearly on display here.
While the film looks great, there is not much more to appreciate. The film is narrated in parts, but the narration serves to spell out the obvious. Much of the narration is overkill,as if director Lee Toland Krieger does not trust us to understand the film. So much of the script is contrived and based on clichés, at many points the story is laughable and the pseudo science is tough to swallow. The Age of Adaline is disappointing, with too much effort spent on style and too little on the substance of the film, of which there is not much.
The Age of Adaline is in Australian cinemas from 16 April through Entertainment One.