Thanks to StudioCanal, we're giving away 5 double passes for the new Sean Penn thriller THE GUNMAN, only at the movies from April 16.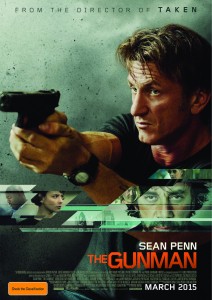 Film Synopsis: Jim Terrier (Penn) is an ex-government contract killer whose past comes back to haunt him when his former employer tries to have him killed. Thrust into a heart pounding game of cat and mouse, Terrier races from the jungles of Africa to the streets of London and the vibrant city of Barcelona in a mission to flush out the people who want him dead. But Terrier is shocked to learn that he's not the only one who's become a target, he must also protect Anne, the beautiful woman he left behind years ago. Their passionate affair is rekindled as they go on the run together, staying one step ahead of a ruthless team of assassins hot on their trail. Terrier knows there's only one way to save himself and Anne: he must bring down one of the world's most powerful organisations and face a dangerous enemy from his past in a nerve shattering showdown that only one man will survive.

How to enter:
1/ Subscribe to our newsletter at  http://eepurl.com/40DaX
2/ Send your name and mailing address to giveaways@filmblerg.com
Competition opens 9am AEST Monday 13th April, 2015 and closes 5pm AEST Sunday 18th April 2015.
Terms and Conditions
1/ Prizes are eligible only to Australian residents.
2/ Film Blerg and StudioCanal cannot be held accountable for any delay or loss in prizes.
3/ You must subscribe to the Film Blerg newsletter to be eligible.
4/ Any information sent remains confidential.