Thanks to Madman Films, we're giving away 5 double passes for the new film BANKSY DOES NEW YORK, only at the movies from April 23.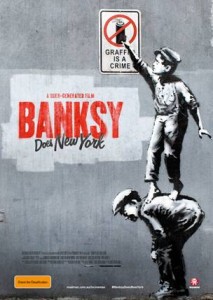 Film Synopsis: Banksy is revered and reviled, considered both a vandal and a genius. Completely anonymous, he is nevertheless without question one of the world's best known living artists.
Over the course of a month-long residency in New York in October 2013, Banksy and his team took to the streets – secretly creating a variety of public work ranging from elaborate conceptual stunts to traditional graffiti art. Constantly evading a citywide search by the NYPD, Banksy's work created a public response that was an equal mix of reverence and derision. From a Central Park stand where priceless originals were anonymously sold for $60, to a junkyard in Queens; New York City served as the canvas for this street art vigilante.
BANKSY DOES NEW YORK is an exhilarating survey of Banksy's city-wide exhibit and at the same time a vibrant portrait of the city itself.

How to enter:
1/ Subscribe to our newsletter at  http://eepurl.com/40DaX
2/ Send your name and mailing address to giveaways@filmblerg.com
Competition opens 9am AEST Monday 13th April, 2015 and closes 5pm AEST Sunday 18th April 2015.
Terms and Conditions
1/ Prizes are eligible only to Australian residents.
2/ Film Blerg and Madman Films cannot be held accountable for any delay or loss in prizes.
3/ You must subscribe to the Film Blerg newsletter to be eligible.
4/ Any information sent remains confidential.