The Royal Shakespeare Company in Stratford-Upon-Avon have produced a rendition of Much Ado About Nothing, a play they have renamed Love's Labour's Won after the alleged 'missing play' by Shakespeare. Artistic Director of the company, Gregory Doran, believes that there is a chance that the missing play, Love's Labour's Won, is in fact Much Ado About Nothing. The RSC are performing this play as the companion piece to their previous production of Love's Labour's Lost, the performance is filmed as part of the National Theatre Live series.
The play has been relocated from Shakespeare's Sicily to 1918 post-war Great Britain. The setting is a stately home which has been transformed to serve as a military hospice for injured soldiers returning from the war in Europe. Other than this relocation of period and setting, little else is changed.
Benedick (Edward Bennett) and Claudio (Tunji Kasim), together with their prince and senior officer Don Pedro (John Hodgkinson), return to England from the war in Europe. They are staying in the home of Leonato (David Horovitch), with his daughter Hero (Flora Spencer-Longhurst) and niece Beatrice (Michelle Terry), the manor house having been converted to be used as a hospital. Claudio is quickly enamoured with the beautiful Hero, much to Benedick's bemusement, and Don Pedro offers to court Hero on Claudio's behalf. Furthermore, Don Pedro, Claudio and Leonarto concoct a match making plan for Benedick and Beatrice, who until now have enjoyed a more prickly affiliation.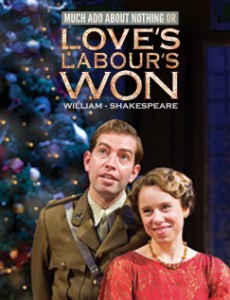 Not all goes to plan, as Don Pedro's evil brother Don John sabotages Claudio and Hero's plans to marry by sullying Hero's good name. A great deal of fuss is made, with truth eventually being revealed thanks to a band of rather inept policemen.
It must be the obvious choice to relocate Shakespeare's works to the contemporary setting, especially as the plays are supposedly timeless. Plenty of film directors have done it well – Baz Luhrmann's Romeo and Juliet is a particular triumph and 10 Things I Hate About You is a better example of the teen romance genre.
The 1918 setting works well in later scenes, where the decadence of language is matched by luminous settings, elegant costume and jazz era music. The chaps are all in their dress uniforms, the ladies are suitably stylish in their gowns. Crystal tumblers and decanters offset the decorous dialogue, and, as the play is particularly funny in many places, the indulgence is well placed. However, early scenes at the hospice do not work so well. The opening scenes are staid and it seems the costuming and setting gives the impression the company are not sufficiently warmed up. That said, the performance kicks off from there and the remainder of the play is very funny.