Based on Kody Keplinger's young adult novel, The DUFF is the most recent addition to the teen comedy genre, which seems to have been neglected in recent years to make way for more dramatic teen fare about vampires (Twilight), dystopian futures (The Hunger Games, Divergent, and Maze Runner series), and dying teenagers (The Fault in Our Stars, If I Stay). Films such as Mean Girls, 10 Things I Hate About You, Clueless, and anything with Kirsten Dunst circa 1998-2002 still hold a special place in my heart and despite being past the age of the target audience for these films, I still relish the return of the teen comedy. The DUFF isn't quite up there, but maybe that's the nostalgia talking (and if you talk to a Gen-Xer nothing is likely to have beaten John Hughes' earlier classics  such as The Breakfast Club and Ferris Bueller's Day Off). The DUFF is likely to resonate with today's youth, though whether it reaches the heights of any of the aforementioned comedies is debatable.
Bianca (Mae Whitman) is your typical young female protagonist: down-to-earth, quick witted, and obviously attractive underneath the bad wardrobe and hairstyle. She's a self-assured non-conformer, but there'll be none of that in a teen movie set-up, thank you very much. Her long-time neighbour and hunk-jock Wesley (Robbie Amell) deals her self-esteem a crushing blow when he informs her that she's the 'DUFF' – the 'Designated Ugly Fat Friend' to her hot pals Jess (Skyler Samuels) and Casey (Bianca A. Santos). Not to be taken literally, he assures her (because calling Mae Whitman fat or ugly is a bit too much of a stretch) the DUFF is the less attractive, more approachable friend in the group, who acts as the gatekeeper to the sexah ladies (or men, because gender equality, yo!) Offended beyond belief, Bianca storms out, isolates herself from her friends, before deciding that actually, maybe that 'dickface' Wesley can help her score the cute hipster boy of her dreams (Nick Eversman). She offers Wesley chemistry tutoring in exchange for his unDUFFing expertise, and Wesley's on-again off-again girlfriend, queen bee Madison (Bella Thorne) gets a bee in her bonnet. So far, so predictable. She's All That called and they want their story back.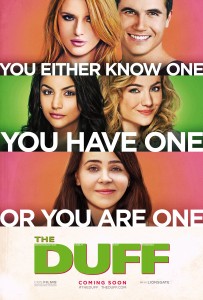 As is often the case with the teen genre, it's not difficult to guess where everything's heading. Who will Bianca end up with? Her impossibly hot neighbour or a guy with yellow teeth? It's a tough call. Though The DUFF does make an effort to point out that cliques are no longer so clearly defined, it still feeds the teen stereotypes, perhaps none more so than with the resident bitch, Madison. This character was created solely for the film adaptation, because what's a teen movie without the bitch getting humiliated at the Prom/Homecoming/Spring Fling? These characters are getting a little old, and still don't make sense, because a popular bitch is an oxymoron.
The DUFF is often funny, but at times cringeworthy due to underwhelming, forced dialogue by screenwriter Josh A. Cagan that doesn't ring true. Director Ari Sandel also makes some foolish choices that border on amateur slapstick – in a confrontation with her friends Bianca stabs at her phone a couple of times and tells them she's just unfriended them on Facebook. She stabs a little more and says she's unfollowed them on Twitter. A few stabs here for Pinterest, a few more there for Snapchat, etcetera. It would seem that Sandel doesn't quite understand how smartphones work.
Though such scenes are semi-awkward, The DUFF is elevated by its leading performance. Mae Whitman wins the audience over with her self-deprecating comedic flair, even if it is a little exaggerated in parts. Robbie Arnell further charms the pants off the audience, reminding viewers that it's okay to hook up with someone who once treated you like shit as long as they keep flashing that toothy smile and give us some puppy dog eyes to remind us JOCKS HAVE FEELINGS TOO. The remainder of the 'teen' cast are average at best in their underwritten roles, but the always brilliant Allison Janney and the hilarious Ken Jeong add some extra panache.
Despite the well-worn tropes of the genre being adhered to, The DUFF does at least partially succeed in delivering some positive messages to its teen audience: we shouldn't let labels define us, cyberbullying is bad, and bitches are pathetic. Where it gets iffy is in its portrayal of romantic relationships and the importance of having a boyfriend. But it's a teen comedy, so maybe asking for otherwise is too much. Viewers will get their happy ending, and it's still a better love story than Twilight.
The Duff is in Australian cinemas from 2 April through Roadshow.