As Tony Abbott's approval rating continues to plummet, Pride is set to become increasingly relevant. Set in Margaret Thatcher's Britain in the mid-1980s, the film recounts how the hate of one political figure can unite the most unlikely of allies.
In this case, it's lesbian and gay rights activists partnering with mining communities, two groups that even today don't share many similarities. Their bond begins on the morning of the 1984 London Gay Pride March, when lead protestor Mark Ashton (Ben Schnetzer) hastily decides to start rattling buckets to raise money for miners. The film is initially coy as to he's doing this, failing to explain why Mark is so invested in miners. Whether intentional or not, this is emblematic of the initial struggles of his unlikely movement – an inability to articulate a rationale.
The calm voice that gives reason to this connection is Dai Donovan (Paddy Considine), an open-minded and patient man from the Welsh village of Onllwyn. Dai unintentionally becomes the middle-man in this episode, bridging the gap between his mining community and their benefactors, LGSM (Lesbians and Gays Support the Miners). It's a messy relationship even at the best of times, but one that serves the interests of both groups.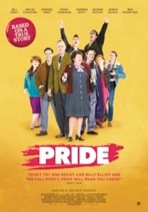 The knowledge that Pride is a true story (and that each character has a real-life counterpart) gives every scene and every character an extra ounce of legitimacy. As we watch Dai deliver a speech to the lesbian and gay community, and Mark do the same in front of a tough crowd of miners, we feel that extra bit anxious. Similarly, when relationships form between Jonathan and Siân or Hefina and Gethin, our stomachs tingle with that warm and fuzzy feeling reserved for weddings and 21sts.
What this means is that director Matthew Warchus doesn't need to waste time developing characters and their back stories, but can launch straight into the action. Indeed, the only character given additional screen time is Joe "Bromley" Cooper (George MacKay), who is entirely fictional. Nevertheless, his coming out narrative is still powerful and grounds the film with greater perspective.
It can be tough watching Pride from the lens of an Australian eye in 2015. The prejudicial attitudes towards homosexuality are extremely backwards, making some of the unsavoury confrontations seem extra shocking. On the flipside, it was the actions of LGSM that paved the way for many of today's inclusive policies, allowing the audience to fittingly feel some pride while watching.
Pride is available on DVD, Blu Ray and on digital release through Entertainment One.