Comedian Chris Rock is perhaps best known for his distinctive voice (see the Madagascar films) delivering foul-mouthed observations about race, sex and politics, many of which were drawn from his experiences growing up (see his TV show Everybody Hates Chris). Top Five, which he wrote, directed and stars in, contains copious doses of all of these characteristics. Not surprisingly, for fans of his brand of crude and candid humour, the film is straight-up hilarious. However, the hilarity is tinged with just enough of an undercurrent of sobering sincerity to give the film an earnest edge that grounds it. And even though there are plot devices that come across as clichéd, there are enough moments of laughter and honesty to make Top Five thoroughly enjoyable.
Andre Allen (Rock) is looking for a career change. Tired of being famous mainly for playing Hammy the Bear (a cop in a bear suit – which also spawned two sequels) he has stopped doing stand-up and instead has just released a loosely historical film about Haitian revolutionaries. He wants to be taken more seriously, and thinks he has more to offer. He is also set to get married to a reality TV star Erica (Gabrielle Union) in a matter of days. His thoughts on these recent unfolding events, and along with his past, are discussed in his interview with New York Times journalist Chelsea Brown (Rosario Dawson), and she accompanies him around the streets of New York over the course of a single day.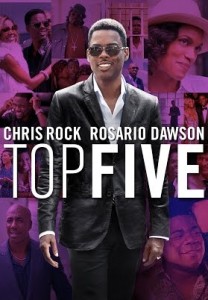 Rock's screenplay is riotously irreverent. He unashamedly indulges in banter on racial stereotypes and raunchy sex, which manages to be both crude and witty. There is also a steady stream of comedian cameos that offer several moments of riotous laughter. Highlights include Andre's account of reaching 'bottom' in Houston, a request to do a radio voiceover with more 'stank', Chelsea's relationship troubles and rapper DMX's aggressive rendition of 'Smile' in a prison cell. Additionally, Rock's chemistry with Dawson is infused with a natural ease that makes their conversations pop, and their talks are perfectly complemented by the backdrop of vibrant, colourful New York streets they meander along.
Throughout the film, Rock also manages to weave in relatively more serious storylines and themes –his struggles with alcoholism, for example – and the two central performances successfully balance levity with gravity. His performance, buoyed by his natural charisma and impeccable timing, is also nuanced and layered. There are subtle hints of Andre's wilful facade, an unwillingness to confront certain realities, which is ironic given his frank and perceptive observations about everyday life.
The film's main flaw would perhaps be its arguably clichéd ending, but the many humourous moments more than compensate, and in the end Top Five is a solid directorial effort from Rock.
Top Five is in Australian cinemas from 12 March through Paramount Pictures.