Following in the footsteps of French heist masterpieces like Bob The Gambler and Rififi, director and co-writer Eric Barbier reunites with leading man Yvan Attal for another crime drama following their previous collaboration on their 2006 film The Snake. While far from a great caper film, The Last Diamond is an entertaining, although familiar, walk through the genre's standard story beats.
The film follows the story of the recently paroled professional thief, Simon (Attal), who is recruited by a gang to help steal the rare and valuable diamond, the fictional 137 carat "Florentin", which is being kept under the watchful eye of diamond expert Julia (Bérénice Bejo) who is organizing its auction and sale. In order to pull of the crime, Simon must get close to her and impersonates a security professional claiming to have ties to her recently deceased mother. As these films usually go, they fall for each other and things get as about as complicated as they can before the inevitable happy ending.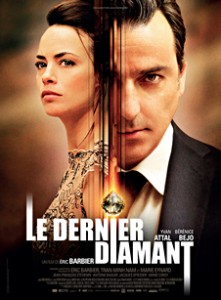 To its credit, The Last Diamond is never a dull or boring film; it just offers nothing new to the heist genre, instead content to coast by on the twists and turns of superior and more original works like Bob the Gambler, The Thomas Crown Affair or Steven Soderbergh's masterful reworking of Ocean's 11. Perhaps, it's because it coasts by on these overly familiar tropes that the film is as entertaining as it is, tropes, after all, are repeated because they work. One can't help wishing that when the third act kicks and the deceptions are unraveled that there wasn't something a little more to it though.
Also contributing to the films immense watch-ability are the lead actors. Attal is great as the seasoned crook and makes the cliché of the con man falling for his mark much more believable than the script gives him the material for. Bejo, who shined so bright in last years The Past, is an infinitely engaging screen presence and also rises well above the so-so material on offer. She adds another layer of complexity that yearns for a better film for her character to be in. Together, they make a charismatic and surprisingly romantic pair.
Stylishly directed, The Last Diamond is an amusing and entertaining film, it's just far too slight to trouble the great heights already established in its genre. If you're after an undemanding night out though, you could do far worse.
The Last Diamond is screening as part of the Alliance French Film Festival.