Tim Burton's films are usually dark, both visually and thematically, but Big Eyes sees the veteran director tone it down a notch. His 17th feature film is uncharacteristically colourful; vivid pinks, yellows, and greens dominate the palette. The distinct lack of Johnny Depp and Helena Bonham Carter on the cast list is also noticeable, although the storyline remains disturbing enough to please Burton loyalists.
Big Eyes' fantastical aesthetics take us back to 1950's San Francisco, a time and place where people lived lavishly and embraced high culture (also a time and place where Jason Schwartzman is a bourgeois art dealer). It is here we find a vulnerable Margaret Keane (Amy Adams), a single mother whose only remnants from her former marriage are a daughter and a collection of 'big eye' portraits. When desperation strikes, she marries fellow artist Walter Keane (Christopher Waltz), who initially lives off his charm and salesmanship, but soon finds fame by taking credit for his wife's unique works.
Like most films, you can tell Christopher Waltz is bad news from the moment he enters the frame; not even Burton is offbeat enough to cast Waltz as the sensitive love interest. As Waltz flirts his way into Amy Adams' tender little heart, you can just see his devil horn's sprouting from his scalp. "Can't you see he's a born liar?" you try to scream at Adams. But it's no use; she falls for him, and is left to wallow in his shadows as he drifts from dream husband to power-hungry playboy.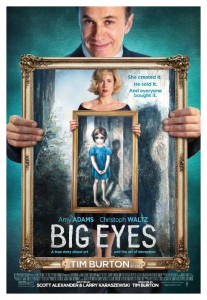 There's one scene that perfectly sums up the two leads. After a big night of sales, Walter tickles Margaret's nose using a wad of cash. After some initial confusion, Margaret embraces the situation and welcomes Walter's affection. For Walter, though, his passion isn't for Margaret, but for the hundreds of dollars floating between himself and his wife.
We know from the start that Big Eyes is a film about deception, but the film speaks loudest when that deception translates into madness. For Margaret, the transition is subtle, expressed through her new-found obsession with numerology and a willingness to accept her life of servitude (her 10-year marriage feels draining, yet passes by for the audience in a swift, almost seamless, manner). For Walter, however, his descent is like watching a carnivorous bear escape its cage; once given the space and freedom, he roams free without knowing where to stop.
Rather than take the film down a psychological road, Burton keeps the film light and accessible. He never lets the plot get too tense, and only dabbles in creepiness. As such, the unravelling of Walter is more comic than tragic; rather than feel remorse for him, we are invited to laugh. On the flipside, Burton gives us Margaret, whose flaws are also her strength. We may cringe for every mistake Margaret mistakes, but we've got her back from start to finish.
Big Eyes is in Australian cinemas from 19 March through Roadshow Entertainment.