Following his theatrical film debut as director a decade ago with the critically acclaimed modern western The Three Burials of Melquiades Estrada, veteran actor Tommy Lee Jones returns, also as co screenwriter and star here, with The Homesman, this time a period western, and perhaps one of the bleakest films of its genre, but undoubtedly one of the best. It is a masterpiece on every front and sure to be one of the years greatest films.
The film tells the haunting story of Mary Bee Cuddy (Hilary Swank), a middle aged spinster, formerly of New York who has moved to the mid-west as a settler and runs a farm. A church-minded, pious woman, she is appalled when three women of her diocese go in insane and are needed to be transported back east where they came from because their husbands are completely unable to understand or help them. Lacking any other volunteers, she is given the task to lead the wagon that will take them. She recruit's a claim jumper, George Briggs (Jones), who she saves from a lynch hanging, and they set about on their journey that will inevitably change them both.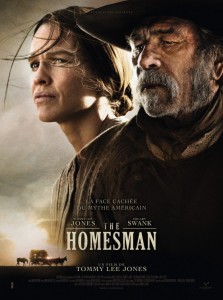 As a filmmaker, Jones has an eye for the particulars of the period, and his sense of detail in recreating the feeling of the west, as a gritty, realistic and nostalgia-free world of violence and struggle, is impeccable. He doesn't pull any punches with the dark and sobering subject at the heart of the film, and he explores the issue of depression before wide-spread awareness of it with a brave and soulful intelligence that is punctuated with moments of bleakness that will not be for the squeamish.
As leading man, Jones turns in another of his disgruntled old coots that fans will have, by this point, come to know well. That isn't to say that Briggs is one dimensional by any stretch of the imagination, Jones brings a reality and heart to a deeply flawed man, its just that we've seen it before. The real showcase here is, yet again, Hilary Swank who may very well be the best actress of her generation. The strength and reality that she brings to her pre-feminist character who struggles to find her place in the male dominated society ranks up there with her finest work. It is a disgrace that she didn't get another Oscar for her portrayal, let alone a nomination.
Rounding out the cast is an impressive line up of supporting actors who all give uniformly fine performances. John Lithgow as the leader of the church gets the best material and makes the most of it, Grace Gummer, Miranda Otto and Sonja Richter are all excellent in the less rewarding, and mostly mute, roles as the three women. In little more than cameos, William Fichtner, Tim Blake Nelson, James Spader (whose performance in a rare moment of humour is worth the price of admission alone) and Meryl Streep all add to the appeal of the film.
One of the years best films, The Homesman is a harrowing journey through some truly horrifying material. It is a must see, but only for those with a strong disposition.
The Homesman is in Australian cinemas from 12 March through Madman.