Courtesy of Entertainment One, Film Blerg is giving away 5 copies of each of the following DVDs, out to own on DVD, BluRay and Digital HD:
RECTIFY: SEASON 2
Rectify Season Two returns viewers to Daniel's side – after  being beaten half to death by his alleged victim's brother and his friends.  He is now unconscious recovering in hospital. Through dreams, prison flashbacks and other devices, we find out more about Daniel's back story. Daniel's stepbrother (and Tawney's husband) Ted Jr. (Clayne Crawford) takes on a bigger and more nuanced role. WATCH TRAILER

HELL ON WHEELS: SEASON 4
Conflict arises between the government and businesses, ranchers, homesteaders and the railroad, as all of those interests compete with one another for control of Cheyenne, Wyoming, the most important railroad hub in 1867. Meanwhile, the Union Pacific Railroad continues its expansion westward, and Bohannon adjusts to being a husband and new father. WATCH TRAILER
THE VILLAGE: SEASON 2
Follows the residents of one English village across the 20th century and their turbulent lives.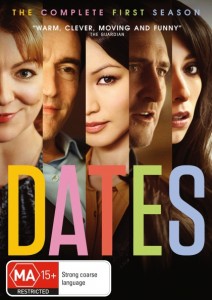 DATES: SEASON 1
From the creator of Skins, Dates is a witty, sexy and personal drama series about dating today. It looks at the complicated and hilarious ways that strangers interact on dates in their quest to find love.
How to win:
Competition opens 9am AEST Tuesday 10th March, 2015 and closes 5pm AEST Sunday 15th March, 2015.
Terms and conditions
Passes are eligible only to Australian residents.
Film Blerg and Entertainment One cannot be held accountable for any delay or loss of prizes.
You must subscribe to the Film Blerg newsletter to be eligible.
Any information sent remains confidential.