Seventh Son is pretty easy to enjoy, with a grizzly Jeff Bridges and an elegantly evil Julianne Moore at the helm. If entertainment is a priority, then this film delivers with impressive landscapes, plenty of fight scenes and a great cast. Directed by Sergei Bodrov, the film makes solid use of CGI to generate an amazing setting. Owing much to the popularity of The Lord of the Rings and Game of Thrones, the medieval scenery is stunning. The film is somewhat lacking in substance due to poor character development, but makes up for it in energy.
Based on a young adult novel, the film follows the story of a young man named Thomas Ward (Ben Barnes) who is the seventh son of a seventh son. According to folklore the seventh son of a seventh son will have exceptional powers, and Tom is sought out by Master Gregory (Bridges) to become his new apprentice. Gregory is the last remaining spook – a knight who serves the community by killing witches and fighting off other supernatural beasts.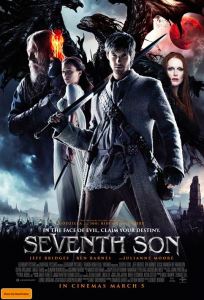 After offering Tom's parents plenty of gold, Gregory secures the services of his new assistant. Tom accepts his fate mostly with good cheer, although starts to worry that all Gregory's past apprentices have been killed, the last at the hands of the witch Mother Malkin (Moore). Malkin is queen of the witches and has recently escaped imprisonment, in time for a blood moon where she can rule under a reign of darkness. Gregory and Tom are on a mission to kill her within the week, before the blood moon rises. This does not allow much time for the kindly Tom to be schooled in the ways of knighthood.
While the film is very well cast, and the cast themselves are very good, there is very little by way of character development. This is partly because every opportunity for contemplation is interrupted by a fight sequence. The character motivations are spelled out too literally – for example, Gregory and Malkin were formerly lovers until Gregory married someone else, who Malkin then killed out of spite. There is no room for subtlety or nuance here. Such fine actors as Bridges and Moore (now an Oscar winner) who have demonstrated their onscreen chemistry in The Big Lebowski, should be allowed to shine. Moore is proven in this style of film, with her recent turn in summer blockbuster The Hunger Games: Mockingjay – Part One. Barnes clearly has more potential than this role allows and Alicia Vikander, who plays Tom's love interest and Malkin's niece, is delightful in more ways than one. She has a lovely screen presence and her gutsy character should have been given more room to move.
Despite this lack of substance to the characters, the film generally works. It maintains momentum, from one battle to the next, and the CGI monsters, combined with great costume and scenery are quite convincing. Seventh Son works well in 3D, dragons in flight a noteworthy highlight. While this film is not as good as others of a similar vein, The Lord of the Rings in particular, it is perfectly watchable and entertaining.
Seventh Son is in Australian cinemas from March 5 through Universal Pictures.