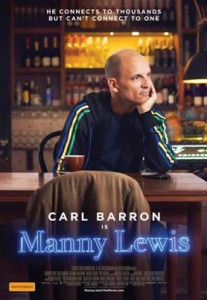 Courtesy of StudioCanal, Film Blerg is giving away 5 double passes to see the new Aussie film starring Carl Baron MANNY LEWIS, only at the movies March 12.
Film Synopsis: Successful Australian comic MANNY LEWIS finds himself at the height of his popularity, and at the depths of his loneliness. Disenchanted with his life and with himself, he focuses on his career and making others happy. After meeting the beautiful and complex MARIA, Manny sees he may have a chance of falling in love, but first he must confront his past, heal his relationship with his father, and learn to love himself. Can Manny Lewis trust love, or will he take comfort and hide in his career?
How to win:
Competition opens 9am AEST Monday 2nd March, 2015 and closes 5pm AEST Friday 6th March, 2015.
Terms and conditions
Passes are eligible only to Australian residents.
Film Blerg and StudioCanal cannot be held accountable for any delay or loss of prizes.
You must subscribe to the Film Blerg newsletter to be eligible.
Any information sent remains confidential.