As we know from a particularly iconic time travel episode of The Simpsons, every time something is changed in the past the repercussions are felt echoing through the future. Homer changes back as much as he can, but eventually decides Marge having a lizard tongue is a small price to pay for relative normality. There are no lizard tongues as a result of the time travel exploits in Dean Israelite's Project Almanac, but there are certainly repercussions.
David Raskin (Jonny Weston) is aiming for a prestigious scholarship to MIT, but despite being a science whiz he just falls short. His widowed mother decides to sell the house in order to make up the financial difference. David searches through the belongings of his late father, also a scientist, hoping to find an old project that will secure him the scholarship and save the family home. David and his sister Christina (Virginia Gardener) find an old video camera, complete with footage of David's seventh birthday party, but also with a blurred image of the seventeen year old David in the background. David and Christina, along with their mates Adam (Allen Evangelista) and Quinn (Sam Lerner), quickly conclude from the footage that David's dad has already discovered the secrets to time travel, and David will shortly complete the project.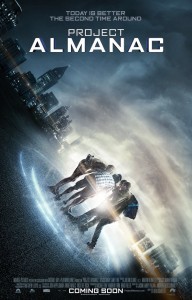 The gang steals some hydrogen and hook up a hybrid car and some smart phones to the ten year old device in David and Christina's basement. They transport a model car through space and time, and when the pretty girl Jessie (Sofia Black D'Elia) joins the fun she quickly convinces them than no further testing is necessary. Within a few weeks they have messed too much with time, their own histories and memories suffering, as well as the larger community. No lizard tongues, but plenty of chaos, ranging from heart break to air crash disaster.
The cast of unknowns are really solid in their performances, with Jonny Weston doing a particularly good job as David. David travels back and forth in time, causing more and more trouble, and starts to become quite unhinged. The performance from Weston is quite physical, hinting that David is becoming an addict, just one more trip to get things fixed. The five friends have a great chemistry, and considering they carry most of the film they do very well.
There are a number of continuity errors with this film, not least of which is how are these kids are able to get away with most of what they are up to. Their first test trip using a model car results in said car returning, but not entirely unscathed. The jump from sending a toy to travelling themselves happens pretty quickly, the science geeks relying on the judgment of the pretty girl, rather than the science prodigy among them. Plausibility is certainly issue here. Project Almanac uses the 'found footage' format made popular by The Blair Witch Project, but the hand held camera style is infuriating. It is very difficult to watch, somewhat sickening in fact, thankfully the running time is only just over 100 minutes.
Project Almanac is quite referential of its time travel predecessors – Bill and Ted, The Terminator and Looper all get a mention. Unfortunately the film doesn't appear to take many of the lessons from these films, and neither do the characters.
Project Almanac is in Australian cinemas from 26 February through Paramount.