"Music is the weapon". This is the war cry of Nigerian musician, composer and political identity Fela Kuti, the cry reiterated by his friends, colleagues and scholars of his life and work throughout the documentary Finding Fela!. Directed by Alex Gibney, this film follows loosely the making of the Fela! Broadway musical, but more specifically, the life of Fela Kuti himself.
Music is so often political, and the music documentary is our opportunity to reflect on the power and influence of artists, their voice and their works. Fela Kuti's life is the source of this film, as well as previous documentaries and a Broadway musical – clearly this man has a story worth telling. Politics, history and music make for a fascinating combination at the best of times. Fela's story contains everything: brutality at the hands of military rule, an unexpected rise to success through music and a vision for his community, eventuating in a funeral attended by one million Nigerians.
Combining current interviews with original footage of Fela and his concerts, the documentary tracks Fela's life and his influence as both a musician and a political activist. Part music documentary, part political and historical commentary, this film does well in balancing all the elements which contribute to the complexity of the 'character' who is Fela Kuti within the context in which he lived and worked.
Unfortunately, the film is problematic in its structure and storytelling, leaving the viewer with a feeling that it is disjointed. Sometimes the behind-the-scenes of the musical seem like they belong to a 'making of' DVD extras package rather than the documentary. But these issues are largely forgiven by the fascinating story of Fela himself. He clearly had an incredible stage presence and his charisma is still obviously imprinted in the minds of those who know him.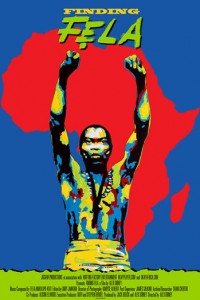 It is Fela's charisma which largely drives interest and entertainment in this film, not merely for the audience, but for the documentary participants also. His children, former band mates and producers, scholars of his life and work are all still enamoured with him to varying degrees.
There are aspects to this man which are controversial. In particular, Fela's treatment of and attitude towards women is questionable at best. This is addressed with relative frankness when director of the Broadway play, Bill T. Jones, faces his cast and production crew and tackles how to present this aspect of an obviously multifarious man to a contemporary audience.  This is one instance where the stage show footage works well.
As a film, Finding Fela! is let down somewhat by the incorporation of the behind the scenes footage of the Fela! musical and at a running time of two hours, perhaps much of this was unnecessary. But despite this, the stage show allows for recreations of Fela's life which stress the drama of the man. Despite his faults, Fela Kuti is fascinating in his life and work and the political and historical importance of his story is palpable. Therefore this film is very compelling. "Music is the weapon of the future". We can only hope so.