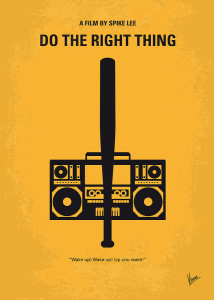 Courtesy of Shadow Electric at the Abbotsford Convent, Film Blerg is giving away 2 double passes to this Sunday (15th February) to Spike Lee's classic DO THE RIGHT THING.
Film Synopsis: 'Spike Lee's third feature film, Do The Right Thing, may be 25 years old, but its portrayal of racial conflict and heavy-handed police reactions seem eerily familiar given recent events in Ferguson, Missouri.
It's the hottest day of the year on a Brooklyn block when violence erupts between African-American residents and an Italian-American family. The story transpires over 24 hours, between the time the local heroes wake up, and the morning after the wild fighting, murder, riots and police brutality.
A real kick in the face for audiences 25 years ago, and a real kick in the guts today, Do The Right Thing is still, sadly, relevant and topical.'
http://shadowelectric.com.au/cinema/do-the-right-thing
How to win:
Competition opens 9am AEST Wednesday 11th February, 2015 and closes 5pm AEST Friday 13th February, 2015.
Terms and conditions
Passes are eligible only to Australian residents.
Film Blerg and Shadow Electric cannot be held accountable for any delay or loss of prizes.
You must subscribe to the Film Blerg newsletter to be eligible.
Any information sent remains confidential.