Edward Snowden, or Ed, as he likes to be called, is the iconic spy of the 21st century. In January 2013, he began sending encrypted emails to documentarian Laura Poitras, claiming to hold evidence of widespread illegal surveillance conducted by the National Security Agency (NSA) in collaboration with agencies worldwide. In Citizenfour, Poitras recounts her communication with the man himself, as he conducts his careful release of classified National Security Agency material to the media in June 2013.
Finishing a trilogy of documentaries analysing post-9/11 America – which began with My Country, My Country and continued with The Oath – Poitras's burden of responsibility here is particularly heavy. Considering that the public interest in what is perhaps the journalistic scoop of the century so far, one which has far-reaching social, political and legal ramifications, getting this documentary right is not only an essential public service but also a delicate piece of journalism in its own right. What we are reviewing here is the editing of many months' worth of communication, many days of interviewing Ed and more than a year's worth of government and media commentary down into two hours. We are then consequently reviewing the honesty both of that curation and of the subject. By focusing on process and events chronologically, Poitras and all those involved are to be commended for the result.
We already know much of the story, such as has been divulged and discussed in the media, even if much of the information leaked remains out of reach for obvious reasons. The story has so far been warped, decontextualised and drowned within the 24-hour news cycle, aided by the confused babble of a thousand competing agendas. However, for all we can read his name as a source, we haven't met Edward Snowden until now. And this lengthy delay is just as he intended – place the emphasis on the story, before the story becomes him. Now that the media's hysteria has calmed, it is only fitting that the conversation about privacy be refocused and clarified, which is why Citizenfour is such essential viewing.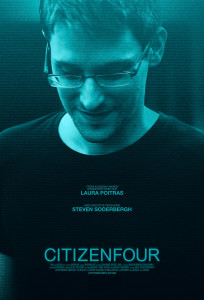 The man who has been called everything from "traitor" to "hero" implemented his crusade in 2013 after years of discontent with the Obama government, which he initially thought would bring change but rather reinforced the status quo of intelligence-gathering practices. By releasing this classified information to a planned schedule (through Guardian journalist Glenn Greenwald and now Poitras), it was his intention to channel the discussion on his own terms. This was instead of publicly info-dumping in the vein of Wikileaks, and letting the media feast on the content, and governments on his reputation.
The circumstances of this interview and ensuing events seem so much like the work of fiction – but nonetheless there he is. With black and white clothes, and non-descript glasses. He's inoffensive, has a sense of humour, and has the ability to make you at ease but not enthralled by his presence. He just seems like a good bloke, but his delivery is as cautious, planned and withholding as you'd expect. So one suspects we still don't really know this man at all. Then again, perhaps this is for the better, if the result is a deflection of attention onto the issues of privacy that are of paramount importance.
Fearlessly incisive, the bravery required from Poitras, Greenwald, The Guardian and others is beyond question. As a result, Poitras has created a compelling real-time thriller. Time will tell as to whether Snowden's crusade triggered something we will thank him for, or something completely otherwise. Yet, for now, this is a succinct and deep-reaching summary of what we are dealing with in the age of increasingly pervasive cyberspace and the alleged creeping rise of the surveillance state.
Citizenfour is in Australian cinemas from February 12 through Madman Films.