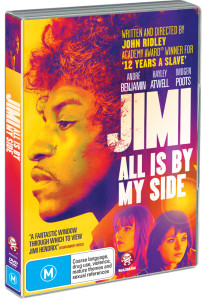 Courtesy of Madman Films, Film Blerg is giving away 2 DVDs of the Jimi Hendrix biopic JIMI: ALL BY MY SIDE, available on disc and digital February 18.
Film Synopsis: Starring Outkast's Andre 3000 in a flawless performance as the iconic Jimi Hendrix, JIMI: ALL IS BY MY SIDE is the directorial debut of the Oscar-winning writer of 12 YEARS A SLAVE, John Ridley.
It's 1966. A then unknown Jimi Hendrix is touring a series of London pubs. With his defining performance at Monterey Pop festival still a year away, a softly spoken Hendrix learns the tricks of the trade before eventually transforming into a triumphant icon of 60s counterculture. Also starring Imogen Poots and Hayley Atwell, JIMI: ALL IS BY MY SIDE offers a rare glimpse at a moment before the thunderous arrival Jimi Hendrix and his electrifying experience.
How to win:
Competition opens 9am AEST Monday 9th February, 2015 and closes 5pm AEST Friday 13th February, 2015.
Terms and conditions
Passes are eligible only to Australian residents.
Film Blerg and Madman Films cannot be held accountable for any delay or loss of prizes.
You must subscribe to the Film Blerg newsletter to be eligible.
Any information sent remains confidential.