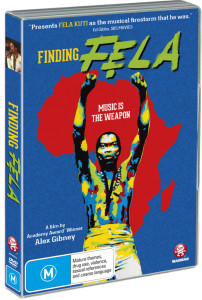 Courtesy of Madman Films, Film Blerg is giving away 2 DVDs of the new documentary by Oscar winner Alex Gibney FINDING FELA, available on disc and digital February 18.
Film Synopsis: Directed by Academy Award-winning filmmaker Alex Gibney (TAXI TO THE DARKSIDE, THE ARMSTRONG LIE), FINDING FELA is a vibrant, politically-charged journey in to the life of the beloved, celebrated father of Afrobeat, Fela Kuti.
Fela Anikulapo Kuti used the self-created musical movement of Afrobeat to express his revolutionary political opinions staging an ideological uprising against the dictatorial Nigerian government of the 1970s and 1980s. His influence helped bring a change towards democracy in Nigeria and promoted Pan Africanist politics to the world. The power and potency of Fela's message remains to this day and is expressed in the political movements of oppressed people, embracing Fela's music and message in their struggle for freedom.
How to win:
Competition opens 9am AEST Monday 9th February, 2015 and closes 5pm AEST Friday 13th February, 2015.
Terms and conditions
Passes are eligible only to Australian residents.
Film Blerg and Madman Films cannot be held accountable for any delay or loss of prizes.
You must subscribe to the Film Blerg newsletter to be eligible.
Any information sent remains confidential.